Blown Slick Series #13 Part 21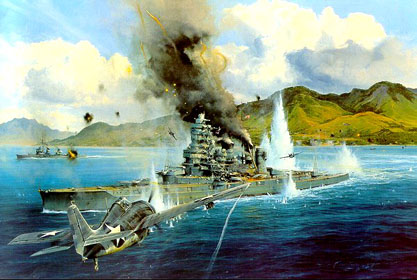 On the morning of 13 November 1942, Marine aircraft of the "Cactus Air Force" attacked and caused the destruction of the Japanese battleship Hiei off Savo Island. F4F Wildcat fighters of Marine squadron VMF-121, commanded by Captain Joe Foss, are engaged in a diversionary attack on the battleship to cover an attack by Avenger torpedo bombers of Marine squadron VMSB-131. By Robert Taylor.
As the end of this series approaches please note that the year of the carrier is not intended to address the overall war in the Pacific nor all aspects of the Guadalcanal Campaign which included significant land and sea battles in addition to the two carrier vs. carrier battles. While the Battle of the Santa Cruz Islands was the last of four carrier battles in 1942, the series would not be complete without some discussion of the actions of the Cactus Air Force and USS Enterprise/Air Group Ten during the Naval Battle of Guadalcanal fought November 12-15, 1942.
The Naval Battle of Guadalcanal