Testimony of Pilot# 19
"… They leave this tiny ship and fly against the enemy.  Then they must seek the ship, lost somewhere on the sea.  And when they find it, they have to land upon its pitching deck.  Where did we get such men?"
As the closing post in testimony's Chapter 3 – Where did we get such men?  – the purpose is first, to add to the collection a fairly well traveled  but I think spot on piece The Fighter Pilot, by an unknown – obviously Air Force –  author;
and second, to provide some discussion of the characterization of what such men and women really do – despite the fighter pilot label – and will continue to do in the future.  Truth be told, it's really what they've always done though sometimes Red Baron semantics and  emerging technology tends to blur the picture.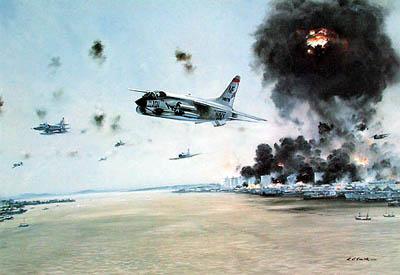 Cdr James Stockdale leading the Operation Pierce Arrow strike on Vinh, North Vietnam as the result of the Gulf of Tonkin incident in August 1964 by R.G. Smith.
The Fighter Pilot
 author unknown