By Gene I. Rochlin, Todd R. La Porte, and Karlene H. Roberts
(The complete article was originally published in the Autumn 1987 issue of Naval War College Review)
"A hundred things I have no control over could go wrong and wreck my career . . . but wherever I go from here, I'll never have a better job than this. . . . This is the best job in the world." Carrier commanding officer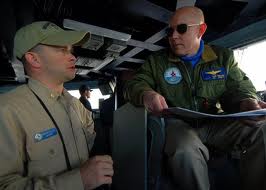 Recent studies of large, formal organizations that perform complex, inherently hazardous, and highly technical tasks under conditions of tight coupling and severe time pressure have generally concluded that most will fail spectacularly at some point, with attendant human and social costs of great severity. The notion that accidents in these systems are "normal," that is, to be expected given the conditions and risks of operation, appears to be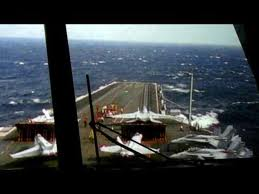 as well grounded in experience as in theory.  Yet there is a small group of organizations in American society that appears to succeed under trying circumstances, performing daily a number of highly complex technical tasks in which they cannot afford to "fail." We are currently studying three unusually salient examples whereby devotion to a zero rate of error is almost matched by performance—utility grid management (Pacific Gas & Electric Company), air traffic control, and flight operations aboard U.S. Navy aircraft carriers. 
Of all activities studied by our research group, flight operations at sea is the closest to the "edge of the envelope"—operating under the most extreme conditions in the least stable environment, and with the greatest tension between preserving safety and reliability and attaining maximum operational efficiency.  Both electrical utilities and air traffic control emphasize the importance of long training, careful selection, task and team stability, and cumulative experience.
Yet the Navy demonstrably performs very well with a young and largely inexperienced crew, with a "management" staff of officers that turns over half its complement each year, and in a working environment that must rebuild itself from scratch approximately every eighteen months. Such performance strongly challenges our theoretical under standing of the Navy as an organization, its training and operational processes, and the problem of high-reliability organizations generally. (Emphasis added)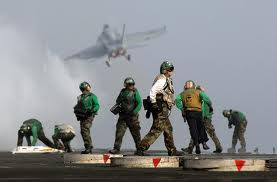 It will come as no surprise to this audience that the Navy has certain traditional ways of doing things that transcend specifics of missions, ships, and technology. Much of what we have to report interprets that which is "known" to naval carrier personnel, yet is seldom articulated or analyzed.  We have been struck by the degree to which a set of highly unusual formal and informal rules and relationships are taken for granted, implicitly and almost unconsciously incorporated into the organizational structure of the operational Navy.
Only those who have been privileged to participate in high-tempo flight operations aboard a modern aircraft carrier at sea can appreciate the complexity, strain, and inherent hazards that underlie seemingly routine day-to-day operations. That naval personnel ultimately accept these conditions as more or less routine is yet another example of how adaptable people are to even the most difficult and stressful of circumstances….
The purpose of this article is to report some of our more relevant findings and observations to our gracious host, the Navy community; to describe air operations through the eyes of informed, yet detached observers; and to use our preliminary findings to reflect upon why carriers work as well as they do.
**********
At the time of publication, Professor Rochlin was adjunct professor of energy and resources and a research political scientist at the Institute of Governmental Studies, University of California, Berkeley, Professor La Porte was professor of political science and associate director of the Institute of Governmental Studies, University of California, Berkeley, and Professor Roberts, an organizational psychologist, was professor of business administration at the University of California, Berkeley.