The website: Remembered Sky began so as to tell the '72-'73 story of USS Midway, Carrier Airwing Five and to further focus primarily on the Attack mission side. It emerged out of revisiting  and reflecting on my career as a Naval Aviator in light of the 100th year anniversary of Naval Aviation in addition to a re-sparking of a long term frustration with, and almost impossibility of finding anything on the carrier and airwing that set the record in the Vietnam War for days on the line, and one of only four to receive the Presidential Unit Citation – equivalent of Navy Cross at the unit level – USS Midway and CAG Five.
While the initial writing was mostly about the VA-56 Champs and A-7s, after meeting up with old friend Dave Kelly from A-6 VA-115, who had the same frustrations/misgivings on USS Midway and attack side stories, we jointly took on "attack" story telling.  Snako is considered a co-author for Remembered Sky. Dave passed away in March 2014  but before he did, he got his book Not On My Watch published.
Editor and author: During his Navy career (May 1968- July 1988) Ed 'Boris' Beakley was qualified in both fighter and attack aircraft with 170 combat missions in Southeast Asia including 100+ over North Vietnam in Attack Squadron 56 (VA-56).  As a test pilot, he had flight-test experience in all USN Attack/Strike aircraft and was the Program Manager/Test Director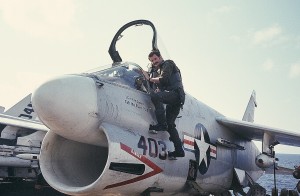 and lead project test pilot for all variants of the TOMAHAWK Cruise Missile.  In addition, experience included project pilot work for HARPOON, WALLEYE, PHOENIX and multiple air launch UAS vehicles.
Overall experience includes thirty-five years of RDT&E support of Navy weapons and command and control systems, plus twenty years of operational and RDT&E experience as an operational Naval Aviator, weapons systems test pilot, and flight test program manager.
He worked directly in concept development for adapting and changing test and evaluation and range capabilities to meet the operational need for integrating cruise weapons with Tactical Aircraft (TACAIR) operations. This effort eventually grew to involve Commander THIRDFLEET and the Navy Strike and Air Warfare Center at Fallon Nevada.  This required capability to support joint testing and training, and the adaptation of the testing and training events to create more operationally realistic events This concept included incorporating C4I aspects into weapons test events, embedding battle management scenarios into live operations by use of distributed simulation technology, and networking of multiple ranges to create multi-service capability.
He is a member of the A-7 Corsair II Association, Red River Valley Fighter Pilots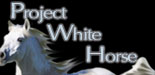 Association and Society of Experimental Test Pilots. In addition to Remembered Sky, he publishes a website and blog on decision making in severe crisis, Project White Horse 084640
Summary
3000 hrs in 20 + aircraft (including F-9,TF-9, T-2, T-33, F-8, A-7A, B, C, E, TA-7, TA-4, A-6, F/A-18, H-34)
Provided aggressor air representing MiG 17 and MiG 21 aircraft for Operational Test and Evaluation Squadron 4 (VX-4) flying F-9 and F-8 aircraft while assigned to the Naval Missile Center (pre-TOPGUN)
170 combat missions flying the A-7 Corsair II in Vietnam April 1972-Feb 1973, including 100+ missions over North Vietnam (multiple Ironhand suppression of enemy air defenses missions), multiple CAS missions with troops in contact
Advanced training command TA-4 flight instructor with focus on teaching entry level air combat maneuvering (ACM)
Masters in Aeronautical Engineering from Naval Post Graduate School. Classified Thesis focused on use of Soviet SA-2 surface to air missile simulation in regard to potential stealth capability for F/A-18 Hornet design. Pre-thesis design study on replacement for TA-4 advanced pilot trainer
Attack weapons project officer for the Over-The-Horizon Detection, Classification and Targeting (OTH-DCT) program in support of TOMAHAWK war-at-sea strikes and land attack mission planning. Included 1)integration of OTH system with P-3 in conjunction with add of Harpoon to aircraft mission for war-at-sea strikes; 2) coordinating officer with Air Force integration of Harpoon on B-52 aircraft and OTH onboard AWACS aircraft
Lead test pilot and Director of TOMAHAWK Fight Test. Involved taking all four variants of the BGM-109 through IOC, integration of cruise missile capability with airwing strike missions, and design lead for development of the Battle Management Interoperability Center (BMIC) in the Range Control building at PMTC (allowed complex scenarios with Battle Group Commanders playing their role out of BMIC during BGM-109 operational test missions)
Post military retirement 14 years design, supporting and analyzing TOMAHAWK and NCW integration with Commander Third Fleet JTFEXs and other battlegroup exercises. Effort included work with Navy Strike Warfare Center ("Strike U") on use of TLAM C/D to suppress enemy air defenses in co-ordination with a tactical aircraft strike.