1942- The Year of the Aircraft Carrier Series
Blown Slick Series #13 Part 29
Lexington, Yorktown, Wasp, Hornet, Saratoga and Enterprise held the line.  Herein is their June 19–20, 1944  pay-off story.
Thanks to Barrett Tillman for all the help during this series and for permission to use this portion of his book Clash of the Carriers. JEB at RS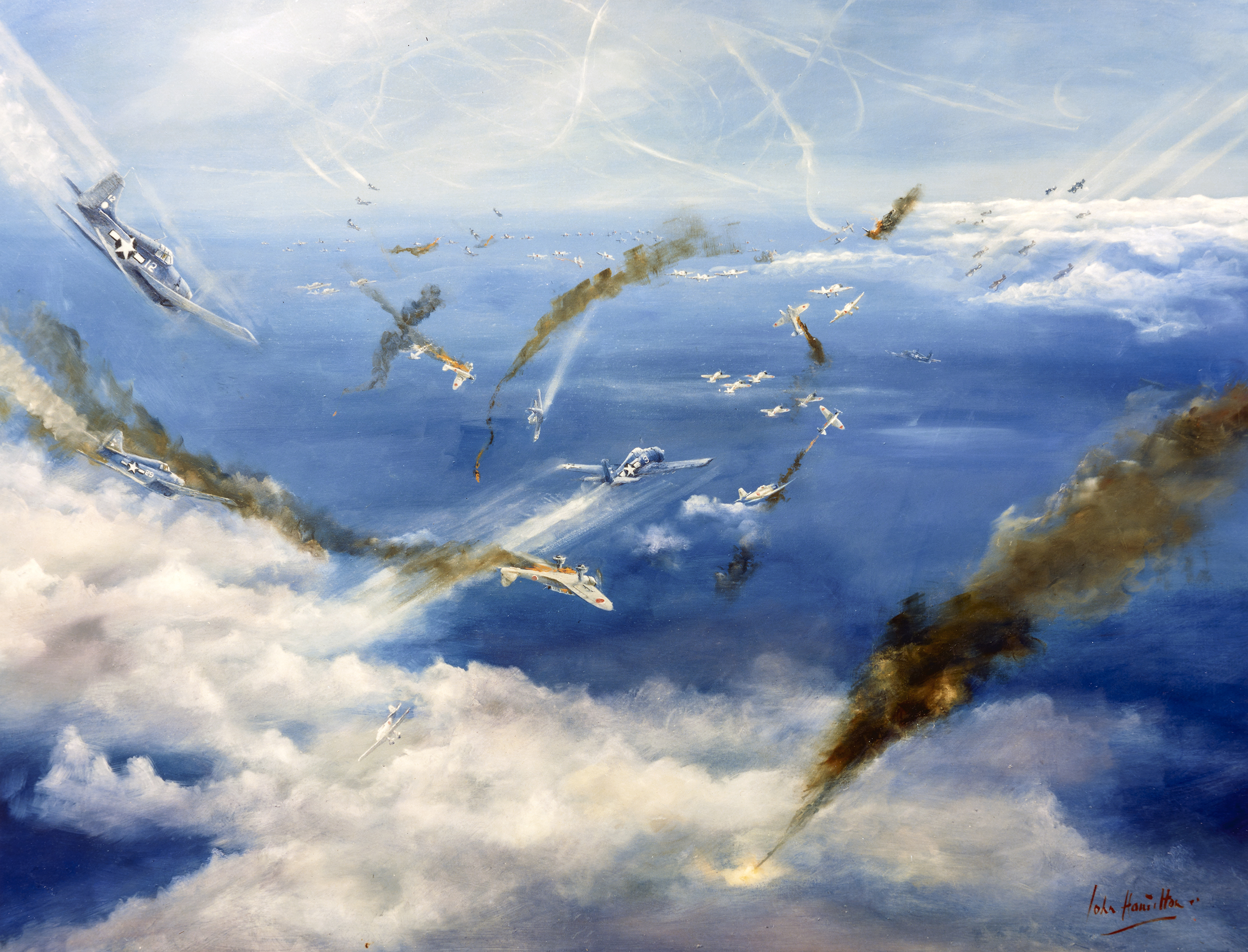 Air Battle Of The Philippine Sea by John Hamilton (Naval History and Heritage Command)
The Great Marianas Turkey Shoot
Adapted from
Clash of The Carriers
by Barrett Tillman
By any measure, the United States would dominate its Pacific enemy, yet Tokyo's warlords convinced themselves that Bushido warrior spirit would defeat steel, expertise—and rage. In 1941 America out produced Japan in every category. That year the U.S. Navy commissioned forty-four warships and thirteen submarines—a further investment in Franklin Roosevelt's two-ocean navy. In comparison, Japan managed twenty-four: three carriers, one battleship (the world's largest), two cruisers, and seven destroyers, plus eleven subs. Three years later the U.S. launched more than nine million tons of cargo vessels, while Japanese yards produced less than eight hundred thousand: a twelve-to-one disparity. And that figure did not account for the attrition that U.S. submarines inflicted upon the empire's vulnerable merchant marine. Excluding escorts, in 1944 America commissioned 762 warships, Japan barely 200. America built 93,000 aircraft versus 28,000 "made in Japan." Yet for all its egregious folly, Japan enjoyed breathtaking success in the five months after December 7.
There had not been a fleet engagement since the fall of 1942, when some seventy American and Japanese ships clashed in the Battle of Santa Cruz. The U.S. lost the carrier Hornet (CV-8) but Japan's strategic goal—isolation of Guadalcanal—was stymied. Subsequent battles were mostly small surface duels: brief, bloody, nocturnal engagements fought with gunfire and torpedoes. The next battle was bound to be far bigger and bloodier.
… the Marianas. Continue reading →