Testimony of Pilot# 26
I never would have made it if I could not have laughed. It lifted me momentarily out of this horrible situation, just enough to make it livable. — Viktor Frankl
All I claim to know is that laughter is the most reliable gauge of human nature. — Feodor Dostoyevsky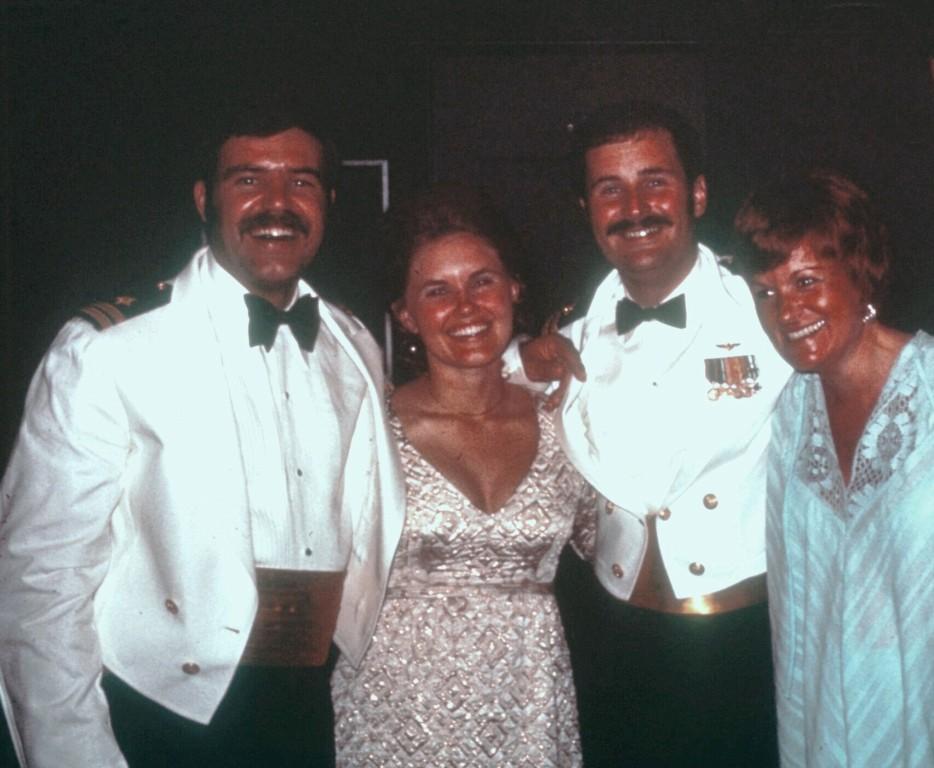 At the 'Prom' – Mike 'Manny' Bader, Kent Bader, Ed 'Boris' Beakley, Paulette Beakley
The four part Missbus Bismus series is based on memories brought on by the Christmas season and particularly those of 1972 during the Vietnam War. I've tried very hard to center the writing on either people or laughter.
As the historical story has been told, the end of the war in Vietnam is considered mainly the result of the Christmas bombing operations of Linebacker II –the eleven days of Christmas.
I've used the convention of memories as ornaments and gifts and so I'll end this "Christmas Stories" series discussing what I choose to refer to as the extended in time gifts of Christmas 1972 – memories beyond price. There are seven story gifts, all but one (the picture above in context) in the link below and summarized here:
Gift #1 – Flight Lead into Cubi Point – Coming off our eighth line period, within about an hour or so after President Nixon announced the end to the Vietnam War. Boris, Floo, Max. Munt
Gift #2 -Champagne and Beer – the greeting by the CTF 77 staff wives with beer and champagne with one of the wives pouring champagne on my head as I climbed out of the cockpit and a hug quickly followed by a beer. We didn't know any of them.
Gift #3 –Eloquence by Boris: of a Jukebox, a Blackshoe Commander and a Urinal – you'll just have to read this one.
Gift #4 – Champagne for the Switches; Skipper Lew at his best (other than in the cockpit, of course) – again, please read
Gift #5 – The March '73 Christmas tree and feast put on for Mike Adams and I by our wives.
Gift #6 – The May birth of the baby girl " made in Hong Kong
Please click the link…Christmas '72 Stories: (Final) Gifts, a Tree, and a Turkey with all the Trimmings
Gift #7 – The VA-56 Formal is represented by the opening picture of my bunk-room mate Manny Bader and I with our wives at a formal dinner in April. Skipper Lew had decreed during the cruise that we'd put on an affair for our wives using our combat pay. Much happiness, beauty, and laughter. Being a carrier aviator's wife is no walk in the park!!!
Memories…What's too painful to remember
We simply choose to forget
So it's the laughter
We will remember
Whenever we remember
The way we were
In August 2005, VA-56 held a squadron reunion in San Diego. Skipper Lew's '72 guys were represented better than any other years. The picture below characteristically shows Max at the peak of his game. Navy Attack aviator, comedian, story teller, and great friend.
Missbus Bismus. Maximus from Boris Clitoris
Love ya man, Rest In Peace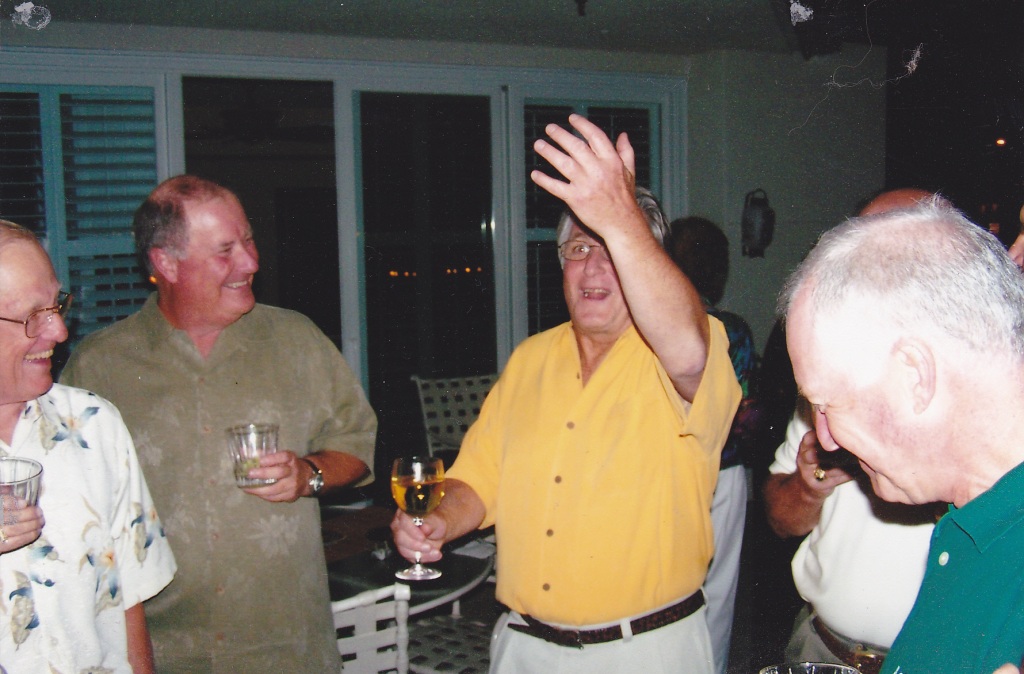 Al Nichols, Boris, Max Carey, Ken Sanger, Joe Gawlik
It's the Laughter We Will Remember