Testimony of Pilot# 25
The comic and the tragic lie inseparably close, like light and shadow. Socrates
The human race has only one effective weapon, and that is laughter. Mark Twain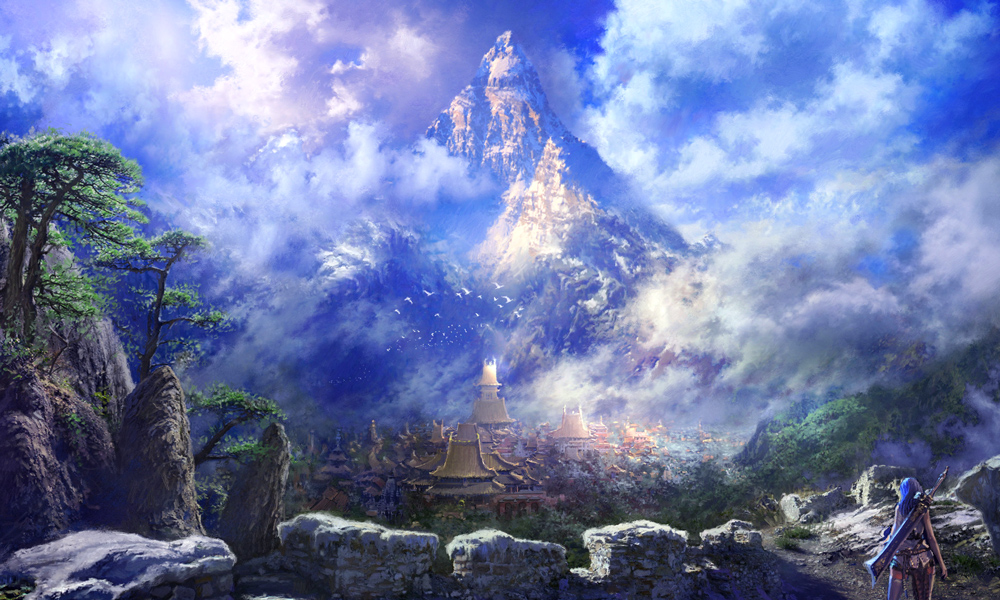 Shangri-La is a fictional place sought and wished for by many, described in the 1933 novel Lost Horizon by British author James Hilton. He describes Shangri-La as a mystical, harmonious valley amongst high mountains. Shangri-La has become synonymous with any earthly paradise, particularly a mythical Himalayan utopia – a permanently happy land, isolated from the world.
USS Midway and Airwing Five had deployed seven weeks early because of the North Vietnamese 30 March'72 invasion of the South known as the Easter Offensive, We began combat operations on the 28th of April and were now in our seventh line period (of nine eventually). A little pleasure of "shangri-la" would most certainly be welcome.
But before getting to discussion of finding Shangri-la and of Bob Hope, Red Foxx, and all the ladies, plus some serious partying, a little context is appropriate.
In October Henry Kissinger said negotiations should end the war shortly and our POWS would come home…"peace was at hand." Linebacker I had been stopped and we were no longer bombing up in Route Package Six along the Red River Valley, Hanoi or Haiphong. USS Midway was scheduled for an in-port R&R in Singapore and as host to the Bob Hope Show.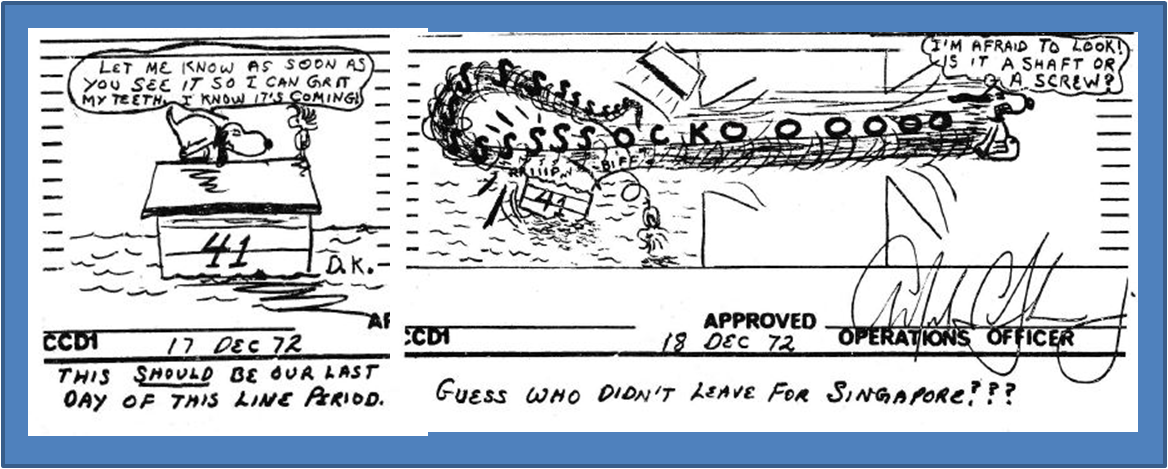 Dec 1972 our seventh line period in the Gulf of Tonkin: for me, fourteen combat sorties, 30.2 hours , the last on the 17th. and USS Midway is bound for Singapore. Oops!!! President Nixon, fed up with the negotiations with North Vietnam, directs an all out effort against the center of gravity of the North – Hanoi and Haiphong – This is Linebacker II.
We're extended!… The eleven days of Christmas begin.The Air Force B-52s will come to the North for the first time. Navy A-6s will do their night single plane low level missions into Haiphong. Midway has been there longest, our Intruder guys have superb capability and experience. Our Intruders now attack targets around Haiphong including SAM sites – single plane, very low and at night. For serious discussion of those missions see Dave Snako Kelly's narrative: Christmas '72 Stories: (4) Snako's Two Night LB II Hat Trick.
Our A-7Bs draw a few SAM suppression missions. But we don't have the avionics of the A-7E for night strike missions. I spend 2 hours apiece on each of the two nights sitting on the catapult in an "alert 5" status ready for launch in 5 minutes if necessary for a combat sea-air-rescue (CSAR) mission.
USS Saratoga had headrd out of Cubi Point on the 17th to relieve us so on the morning of 20 Dec we're off to Singapore.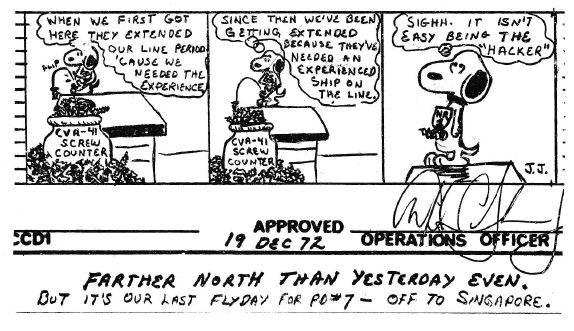 For the Midway and Airwing Five that meant the Bob Hope Show, Singapore Slings, young Scotch, and beer, I.e., evening the strain.
Transiting down from Yankee Station was enhanced by bunkroom visits from Santa. Some illicit alcohol might have enhanced getting to sit on Santa's lap, ya know? We're primed!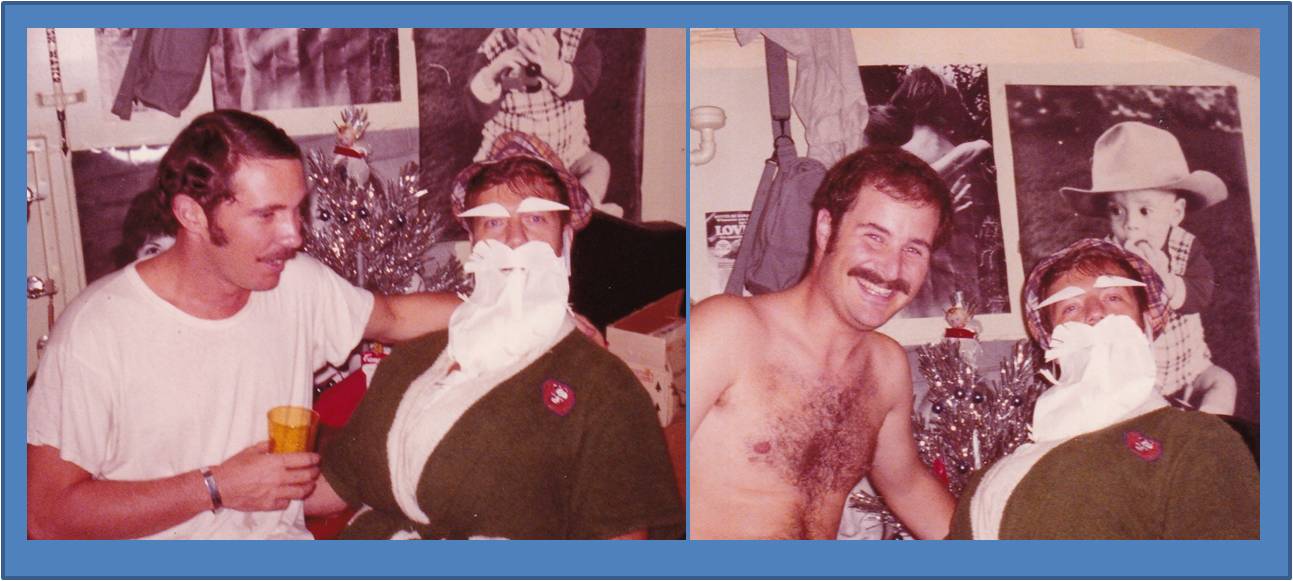 Mike McCormick VA-115 and Boris VA-56 providing Christmas wishes on Santa's knee (Dave Walsh VA-115)
For the Champs arrival in Singapore meant finding our Shangri- La. The Champs set up an "admin" in a suite in the newly opened Shangri-la Hotel (as it turns out Hope's performers were also staying there). Some fun to be had by all.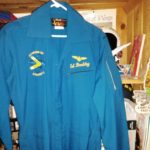 But first Bob Hope. VA-56 was decked out in our brand new shit-hot custom tailored blue flight suits. ( Alas, the Bangkok tailor had gotten the squadron logo backwards? You have to laugh, no?)
The show had several contestants from the Miss America Contest, LA Rams quarterback Roman Gabriel, comedian Red Foxx, along with multiple other performers, and of course Bob and his routines so often seen on TV and part of memories growing up.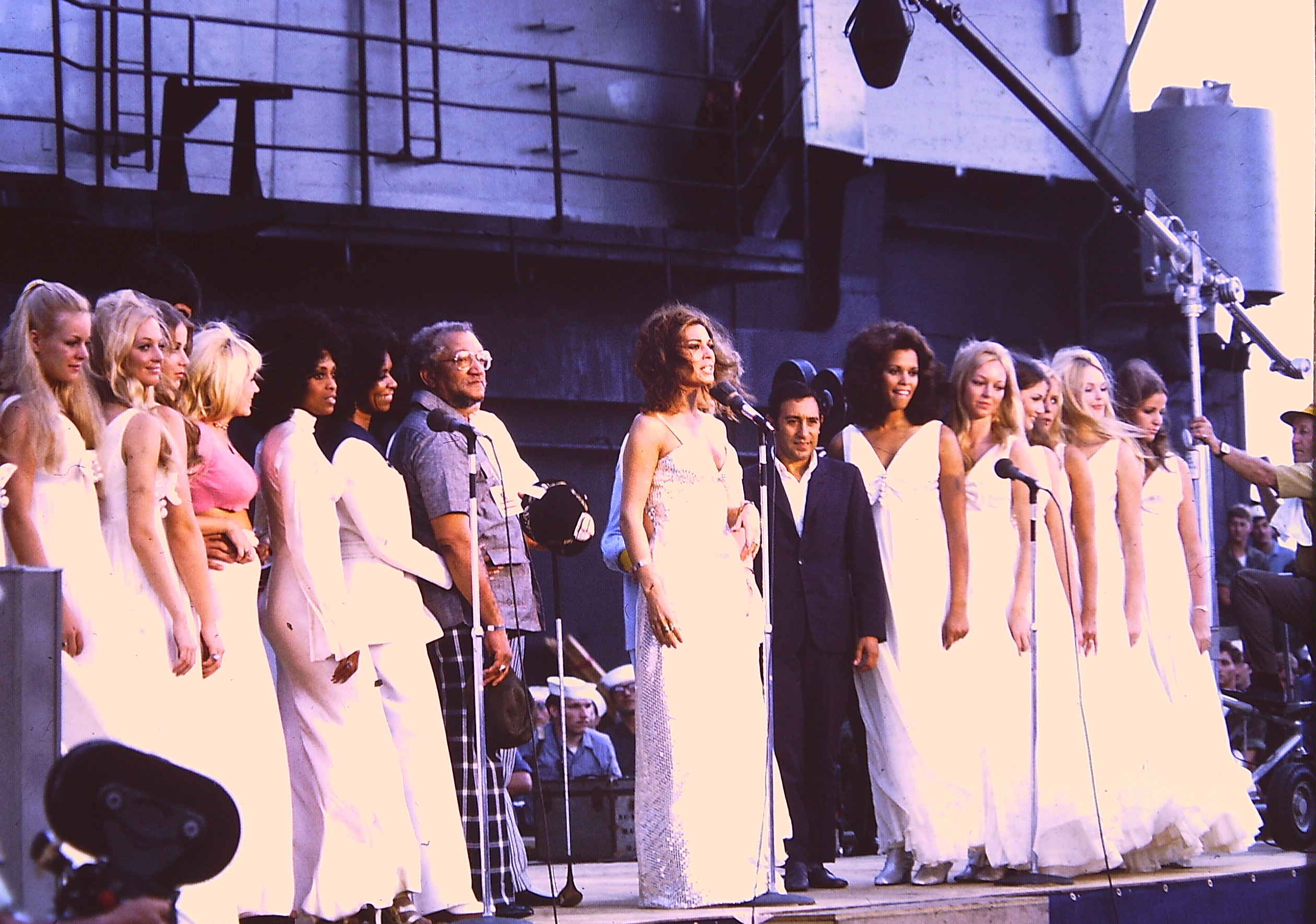 Silent Night
You had to appreciate that he'd been doing this for a long time including WW II. But by far, the funniest effort came from Red Foxx. I got to meet both after the show. And Mike Manny Bader also met Foxx, even getting some liberty tips ? and because Manny was from Kansas, a big kiss from Miss Kansas.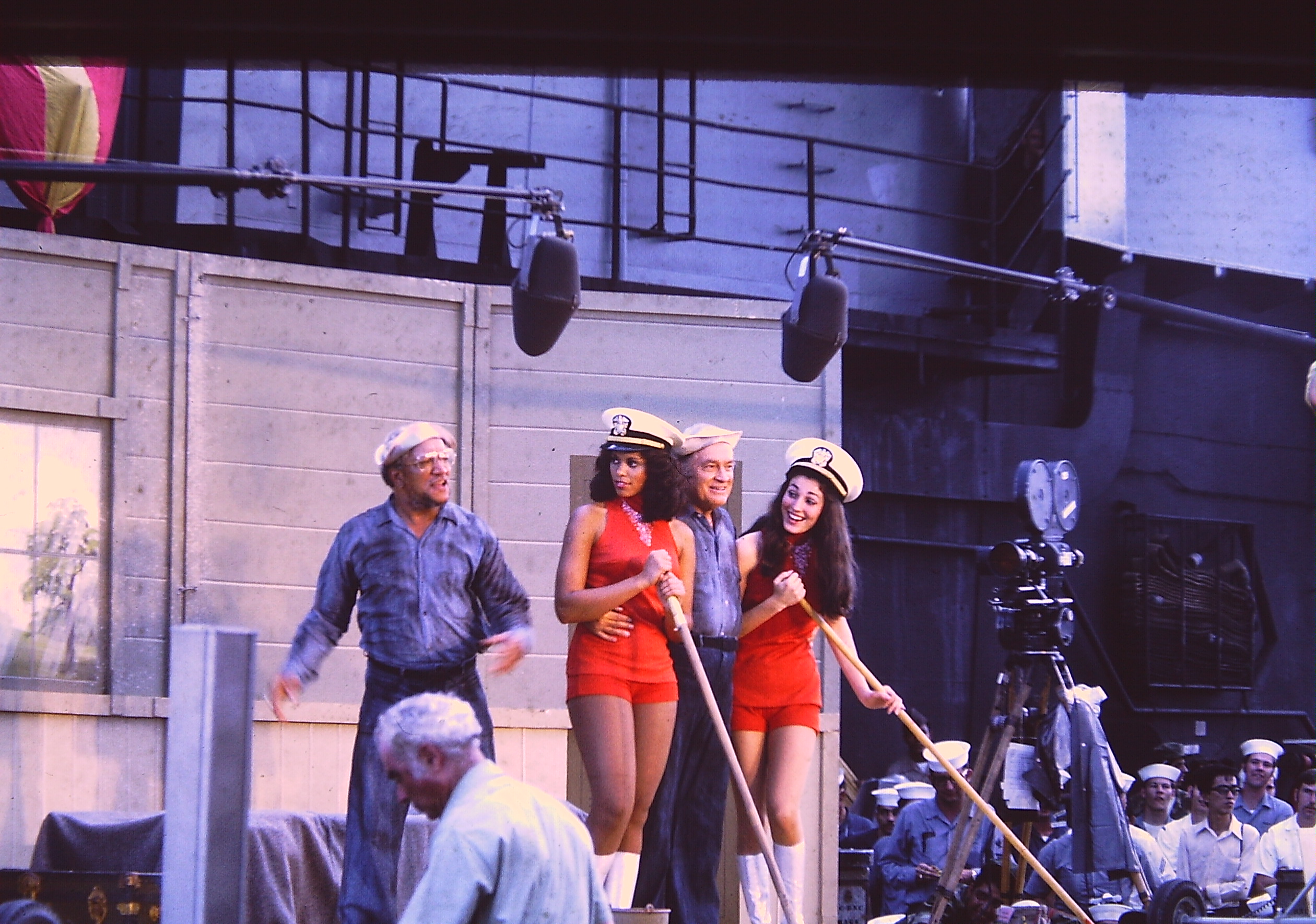 Every military person in a war zone no matter the year or war is appreciative of Bob Hope. BUT the funniest, most in touch with the guys was Red Foxx. He wasn't worried about making the highlights on TV… he knew his audience so his jokes were "blue" and sailors howled.
And then there was Christmas Eve.
Our day included the JO's (junior officers below the rank of Lieutenant Commander) going out to look for a gift for Skipper Lew (more on that in a bit), a cocktail/gift exchange party in the admin (coat and tie for gentlemen all), squadron dinner in a really upscale restaurant, then out on the town.

Skipper Lew hosting the cocktail party and playing Santa. 1) Mike Adams, assistant maintenance officer with Ops Officer KT Sanger head in hand; 2) Doug Faber; and 3) Boris. All gifts were intended for max humor and had an accompanying note, mostly written by Max Carey.
And then there was the present for Skipper Lew, which requires some 'splanning. As noted above, the skipper's gift was selected unanimously by the JOs when visiting a toy shop. The picture below includes a close proximity to a toy police car shown in skipper's hand on the left. Turning on the siren, produced the sound deedle…deedle…deedle…deedledeedledeedledeedle.
When checked in the toy store six to eight combat experience naval aviators flenched, ducked, went to the floor. Why? That deedle deedle getting faster was about as close as you could get to the aural warning you get in the cockpit when our electronic warning gear indicated a surface-air-missile (SAM) – a real launch of a telephone pole SA-2 pictured – had you "locked up" and was about to truly ruin your flying day. Wild-assed maneuvering required!!!!! And duplicated as shown diving to the admin floor in a "SAM break" (very hard turn and dive)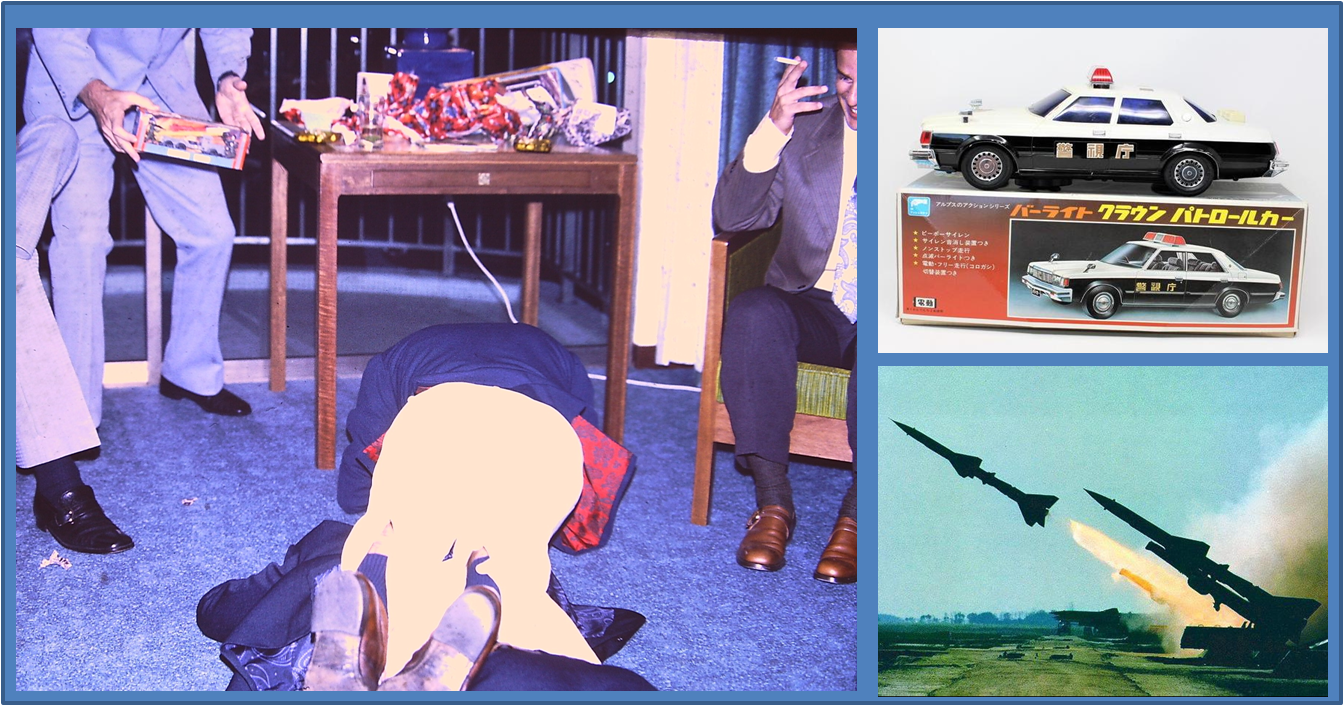 The picture on the left shows the skipper bending over laughing and myself and three other JOs hitting the floor in a SAM break.
Accompanying the police car was a note that said in effect –
"Skipper, when you make admiral (and we know you will – a0nd he did), we want you to keep this little Christmas gift on your desk, so anytime you're faced with tough decisions, you can turn on that siren and gain immediate recall of what the real world of naval aviators is like and keep that factor high on your priority list!"
(As a point of interest, Walter Lewis Chatham's career includes solo pilot in F-11s with the Blue Angels and 366 combat missions in the Vietnam conflict. Operational commands included Attack Squadron 56, Carrier Air Wing 5, the oiler USS Hassayampa, the carrier USS Kitty Hawk, and as an admiral Carrier Group 6, and Task Force 70/77.)
Now on to a fine dinner, Note, Singapore is a beautiful city, clean and they make sure it stays that way. But of note, they treat Christmas Eve like we do New Year's Eve. Everyone turns out to party. We kept up the spirit to include plumb pudding, one squadron mate who got lost and couldn't remember where we were, one face plant in his soup bowl, then joining in with the Singapore celebrations, and well… it was 48 years ago (my story and sticking too it) I just don't recall anymore details… until Christmas morning and maybe the funniest personal story of my life….
After a dinner and a night on the town, most Champs retired to the Shangri-La admin suite. (Just to be clear payed for out of aviator pockets) This saved catching the small transit boats back out to Midway anchored in the harbor. Sleeping was where you could find it – beds, mattresses, couch, floor.
And so Christmas morning, I awoke first and slipped out to get coffee in the lobby and if possible find some Christmas decoration that might be "appropriated" for a while up in the admin. No luck there but did meet Roman Gabriel at the lobby coffee set up and thanked him for coming out. He remembered the blue shit hots and me coming in to meet Hope and Foxx. Gabriel was a nice guy.
(Side story -a very attractive woman had approached me on the flight deck asking about the flight suits. Turns out she was a reporter traveling with the show and was really looking for a scoop. She actually asked "were the POWs really being treated so badly?" Needless to say she got nada from me but did take me to meet Hope and Foxx and others.)
Disappointed with no decoration, I await the lobby elevator. A significant point – the Shangri-La is a really nice hotel. The picture below is from current advertising and most certainly not of the lobby in 1972, but hopefully you'll see the point with what next occurs…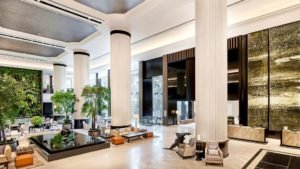 Fair warning:
The humor here is centered on a Christmas greeting with shall we say, interesting phraseology.
As the elevator door opens, there stands our comic poet Max Carey, a little worse for wear from Christmas Eve…
"MISSMUS BISMUS … BORIS CLITORIS"
And out pours Maximus to give me a big hug. Over his shoulder I see a very proper – tweed sport jacket for the mustached gentleman – probably British elderly couple still in the elevator, jaws dropped pretty low, staring at us in obvious shock (the Christmas morning greeting was pretty loud, I.e., the use of caps).
They don't move, never get off the elevator, the doors close and the elevator heads up on its merry way.
So now the context of the title is revealed…
and now known by more than just the A-7 Corsair flying aviators of the VA-56 Champions.
Midway would get underway a few days later before the year ended and we would celebrate New Years Eve 1972 at sea with a bunk-room party. Our Christmas Shangri-La was now lost and we were inbound to Cubi Point enroute to our eighth and then ninth line periods in the Gulf of Tonkin. (Midway/CAG 5 would eventually set the record for most days on the line in the whole war) Combat missions began again for us after the first week of January 1973.
Midway and Airwing Five were not done with loss yet.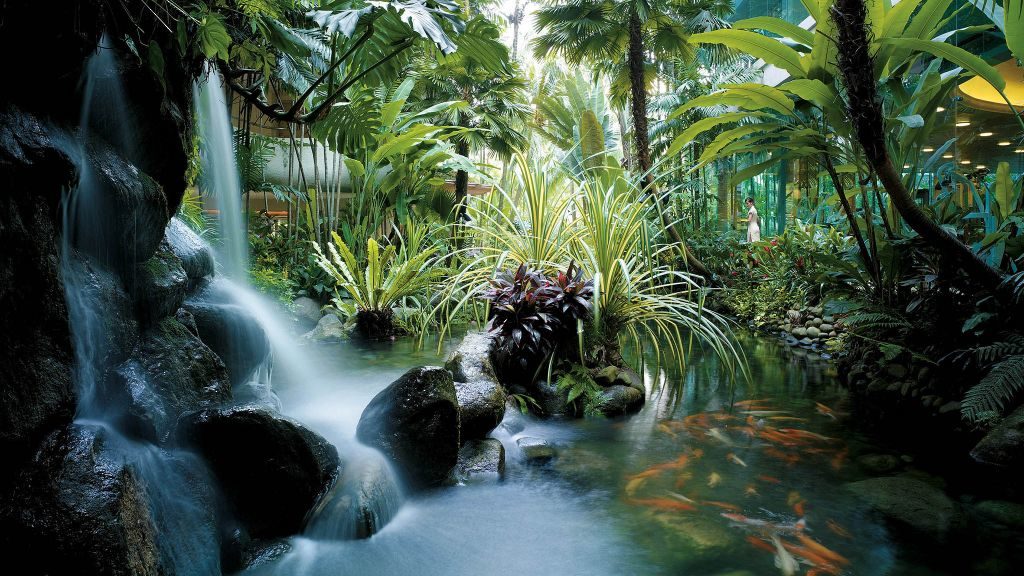 From there to here, from here to there, funny things are everywhere

. — Dr. Seuss