Testimony of Pilot# 23
"It is required of every man," the Ghost returned, "that the spirit within him should walk abroad among his fellowmen, and travel far and wide; and if that spirit goes not forth in life, it is condemned to do so after death. It is doomed to wander through the world—oh, woe is me!—and witness what it cannot share, but might have shared on earth, and turned to happiness!" Jacob Marley (A Christmas Carol by Charles Dickens)
Missmus Bismus, Feliz Navidad, Merry Christmas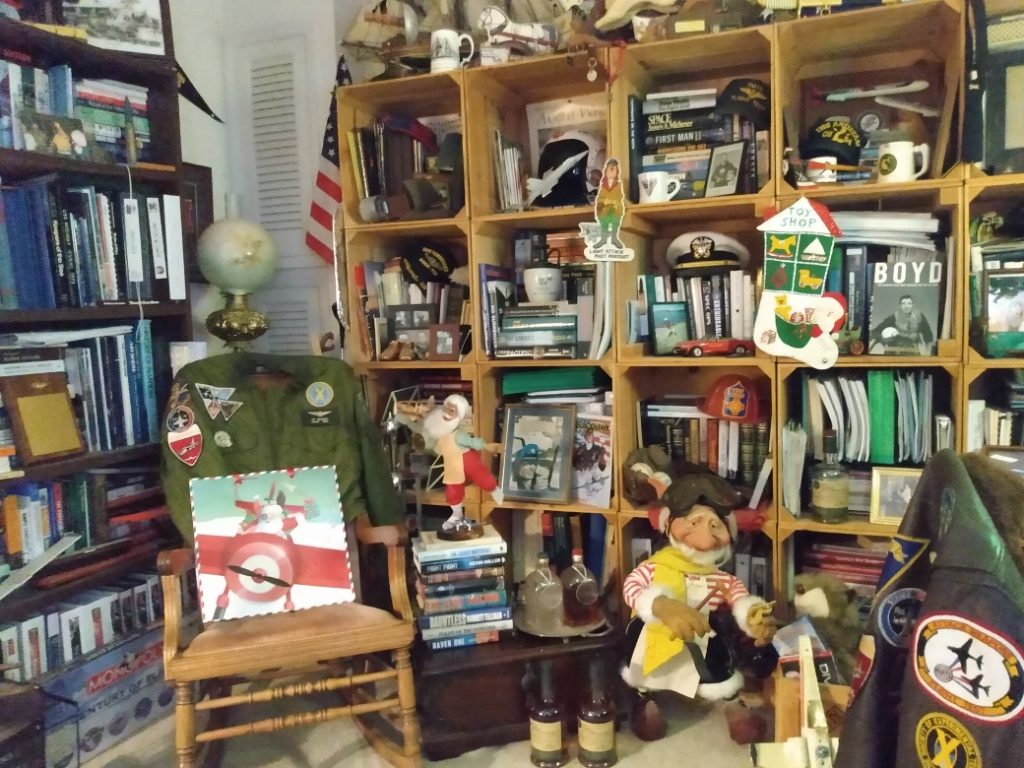 The back wall in Boris's toy shop, the domain of Elvis the Elf, fixer of all model aircraft, hammer in hand
Christmas of course is a time of the birth of a child , of a star, and of ornaments, brightly wrapped presents, eggnog, parties, long established traditions, family and good friends and most certainly of memories. For some of us, there are those inescapable memories that come like it or not of a war finally unleashed, but with the accompanying stress, fear and inevitable loss. The 1972 eleven days of Christmas included some incredible stupidity, multiple examples of above and beyond bravery, a manifestation of hope long battered for the residents of the Hanoi Hilton, and the portending of their return to freedom.
The intersection of those great Christmas memories and the unbidden wartime memories is the people . For the Christmas of this horrible year, I've dusted off some writing that focuses on the friends indelibly linked – "these good men."
It would most certainly be an unforced error in ignoring ole Marley's words, no?
Everyone at one time or another stumbles across something or someone that sends their mind cascading back in time to people and events that have shaped their lives. Aviators in particular are notorious for that instantaneous hands in the air "and their I was, flat on my back, running out of airspeed, altitude and gas… but here's what I did…" – airshow time at the bar. Late 1999 I experienced that moment when daughter Tracey – made in Hong Kong 1972 in the midst of the war over Vietnam – announced she was bringing home for Christmas an F-14 Tomcat type naval aviator. The result was really my first effort at story telling by actually writing – The Ghosts of Christmas Past…Fly Navy, the BEST Always Have.
Ghosts of Christmas Past
(Updated, original Dec 1999)
It happens periodically, going on for over twenty-five years but mostly since I retired and am not so close to the source anymore. The memories come rolling in. Sometimes I'm in the cockpit of the A-7, the spare for a night road-recce north of Vinh. Bear is up on the cat, Munt is in the plane next to me – they know they're going. You know you're going, too, you can bet on it. Spare, night, north, it's the perfect combo.
The FIRST SAM always makes an appearance – right behind Lots, between me and Floo, at a wonderful place called Thanh Hoa. Yahoo.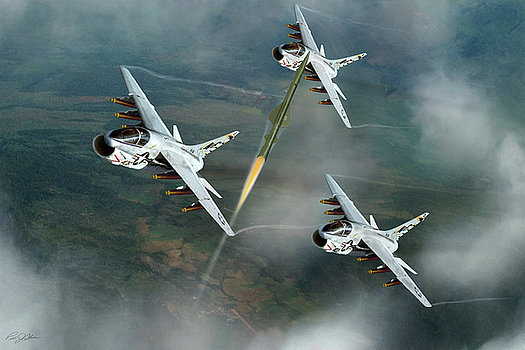 Art by Peter Chilelli
Sometimes I'm sitting on the runway at El Centro in the Crusader, the skipper of VF-124 off to one side, waiting to roll on my first hop in a real single seat – non training command- honest-to-God Fleet warbird. Or a couple of years later – El Centro again, with another RAG CO, Capt Jim Busey of VA-125 for my first Corsair flight, and then a bit later with VA-56 XO Lew Chatham on my first and only flight with the Champs before heading for Yankee Station. Hmmm, pattern here? Or towards the end, so close to the TLAM D, the photographer in the back seat of the TA-7 has got to get good pics, one of the sub-munitions doors is jammed, with all our technology this is the only way to get this test data.
Sometimes it's the flight deck of Midway in Singapore Harbor, Christmas '72, Bob Hope. Our A-6 guys have really had an interesting few nights along with the BUFs.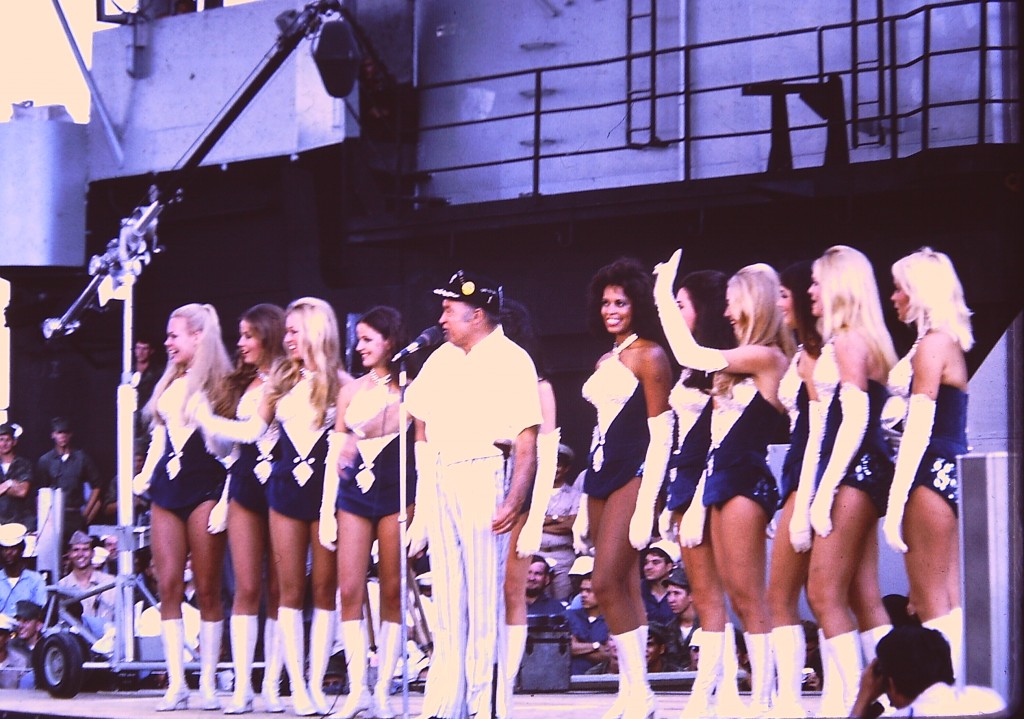 The Christmas card from Randy, college buddy, flight school roomie, VF-111, just back in the states, sticks in my mind FLY NAVY it says, THE BEST ALWAYS HAVE. Ghosts of Christmas past.
When it happens the thoughts play around in my head for days and I always rummage through my collection of books, articles, scrap books, patches, "I love me" stuff and read pieces that I've been collecting since NROTC days.
What brings this ghost hunting on is chance meetings with old pals, some news item with Navy guys in it, a bad war movie with Navy jets, you get the picture. In the last few weeks I've gotten bombarded with multiple inputs and therefore this little (long before rememberedsky) e-mail shot. First was on a random channel flip, catching William Holden in the binjo ditch just as he tells Mickey Rooney about the wrong war, wrong place –you fight because you're there, leading into the famous comment by the admiral on the carrier Savo "Where did we get such men?"


Finally, a joyous input. My daughter, made in Hong Kong during that '72 cruise, is bringing home, Christmas Eve, for a first meeting, my son-in-law to-be, a LCDR F-14 RIO. Seems "Fly Navy" is gonna be around some more.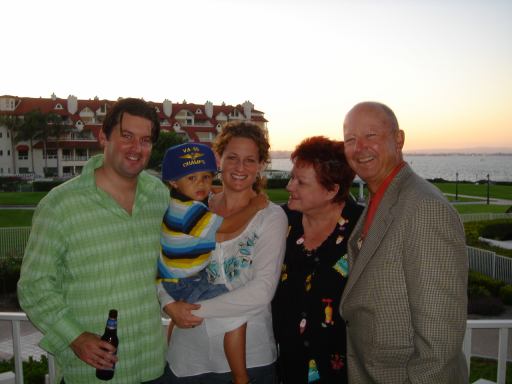 Update: The Clan of Boris with Skipper Lew in 2005. That 1999 visit brought a keeper in Frenchy. The little guy in the Champ hat is now 6'2″ and just signed a letter of intent to play Division I volleyball at George Mason University. OBTW, when his Mom was just home from the NAS Lemoore Hospital in May '73 threw up on Skipper's nice khakis 🙂
And so, I thought I'd pass on some of the pieces as Christmas ornaments, if you will, thoughts that are important, written by people who can tell the story so much better than I.
Missmus Bismus


FLY NAVY THE BEST ALWAYS HAVE

Remembered Sky, a blog focused on flying and those that do it and whose lives would have been so much less without it.
We have not just dreamed,,, WE have done
(For the remainder of "Ghosts…" see Missmus Bissmus #2)