Blown Slick Series #13 Part 11
Between the lines
The haste in putting Operation Watchtower together would prove problematic on many levels not the least of which was that this tasking was completely new – none of the commanders knew how to put it all together, from logistics, to air support of ground forces with long term land, sea, and air opposition, to night battles at sea.
Neptune's Inferno:

The U.S. Navy at Guadalcanal

, James D. Hornfischer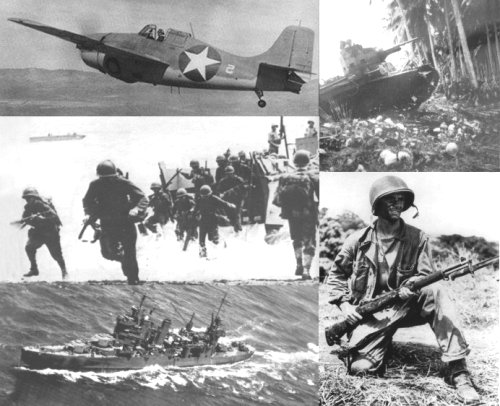 The original intent of the Year of the Carrier series was to post discussions on the anniversaries of the major events – Doolittle/Hornet raid and the four '42 carrier battles. While Hornet's raid, Coral Sea and Midway battles were time span and focus relatively straight forward, Guadalcanal covers six months with a lot more areas and types of conflict. As such, several aspects of air operations need to be put forward throughout the remainder of the series with some addressed prior to discussion of the third major carrier battle – Battle of the Eastern Solomons . Therefore that will cause a delay in the 24-25 August anniversary post .
Here are the anticipated areas of discussion:
how new this all really was
Midway didn't mean we had all the answers for carrier aviation or its support roles, particularly when tied to a "box" defined by staying close to an invasion/occupation site which created significantly different requirements from open ocean ops
perspectives – looking at the overall campaign in light of carrier capabilities and limitations and then the flip side of the coin…
… looking at CV ops in light of need to support the land campaign
the effort by both U.S. and Japanese commands to protect their carriers
flight deck operations for multiple mission types and with multiple carriers
criticality of land based air
negative aspects throughout the overall campaign on both sides of intelligence, reconnaissance and communications
given that neither side knew where the other was, it was a constant game of blind-man's bluff
CAS was a new animal and comms were completely non-supportive
night aviation was really sketchy and Japanese sea forces were a lot better prepared for night
The plan is to cover these elements in the following parts:
First days air support

Henderson Field, Cactus Air Force and Operations

Battle of the Eastern Solomons and aftermath
Battle of the Santa Cruz Islands

Conclusion – Thinking on carrier operations as driven by the Guadalcanal Campaign
And on a personal aside
Exploration of the Guadalcanal Campaign has provided insight into the career of a distant relative – VADM William Morris Beakley. When I joined the Navy through NROTC, my Dad related that we had a distant relative who had been a naval officer in WW II but that was all he knew. Several years later, while at Pt Mugu, my boss LCDR Patterson asked if I were related to the admiral and shared a couple of items. Then when I joined VA-56 on the USS Midway, I saw Captain Beakley's name on the listing of commanding officers on a brass plate on the quarterdeck. Remember this was well before "Google Search."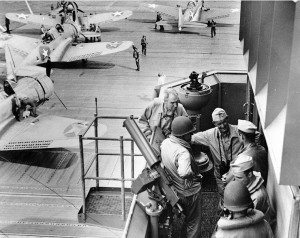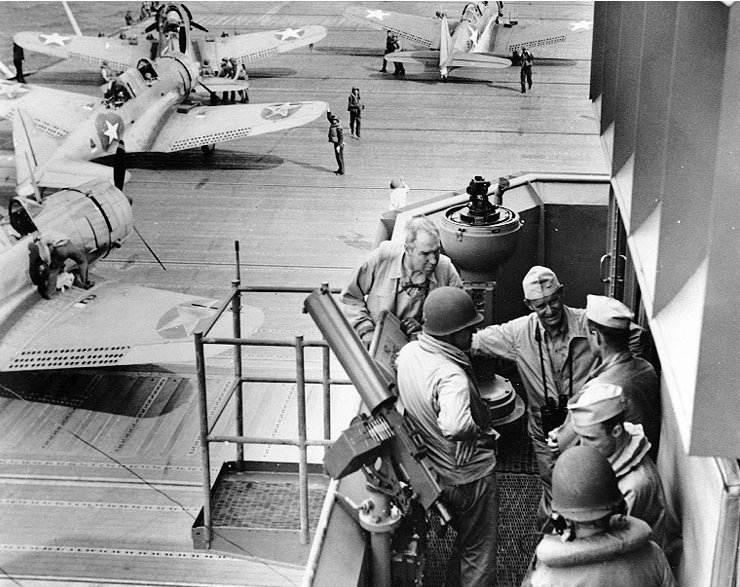 I found multiple references to his time as the wing commander on the USS Wasp and was finally able to fill in some blanks on his career. He had previously been CO of VF-5 flying F-4F Wildcats. Shown in the picture here, he had just directed and controlled all carrier air strikes on Tulagi, Gavutu, and Tanambogo and would receive a Navy Cross. When the Wasp was torpedoed he had to swim for his life.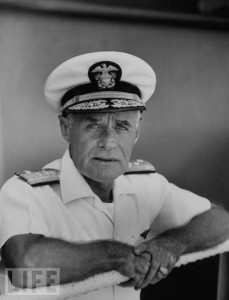 He went on to serve on the staff of Admiral Nimitz, was the eighth commanding officer of USS Midway (still a straight deck), serve as Commander Seventh Fleet, and on the staff of the Joint Chiefs of Staff where under President Kennedy he was instrumental in the stand-up of the Navy SEAL program.
While I cannot directly trace the family tree, what was initially striking and remains so, is that if his picture were placed with my Dad Bill and his two brothers Ben and Glen, the likeliness is undeniable.