"When we got airborne and the frailty of being a POW turned into the reality of freedom, we yelled, cried and cheered." Feb. 18, 1973, Maj. Gen. Ed Mechenbier, the last Vietnam POW to serve in the USAF.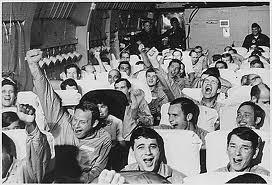 Three's In and the Fourth Allied POW Wing
From the

Three's In webpage by Paul Galanti

"During the flyover of a military "Missing Man" formation, aircraft #3 pulls abruptly out of the formation to signify the "missing man." The webpage of the 4th Allied POW Wing is therefore entitled  "Three's In"!!  "Three" is back in the formation.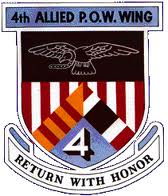 The seal of the 4th Allied POW Wing, created by the Air Force Office of Heraldry in 1973, depicts the colors of the United States and the Republic of Vietnam as well as the chained eagle, emblematic of the fighting men who were captured. Pilots and their aircrews were captured mostly in NVN and China while ground troops and civilians were captured in SVN, Laos and Cambodia.. The number "4th" was chosen by Wing Commander (and senior POW held in North Vietnam) Lieutenant General John Peter Flynn, USAF. Vietnam was the fourth conflict in which Americans were held overseas.
"Of the 802 Southeast Asia POWs (661 military, 141 civilians/foreign nationals), 472 were tortured and imprisoned in North Vietnam, some longer than eight years, 263 in the South Vietnam jungle POW camps for as long as nine years, 31 in Laos, 31 in Cambodia and 5 in China (two of whom were held for over 19 years under sub-human conditions).  We are one of the strongest fraternal organizations that exists in the world today.  We are bonded together, not by rank or service, but by the deep knowledge and faith that we are one unit – one entity that the enemy could not destroy.  We held our heads high with pride as we served our nation as Prisoners of War.  We accomplished our sworn goal…We Returned With Honor." PG
******************************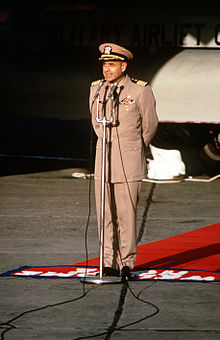 Commander Jeremiah Denton, commanding officer of VA-85 was shot down on 18. July 1965.  Denton is best known for the 1966 televised press conference that he was forced into  by his North Vietnamese captors. He ingeniously used the opportunity to communicate successfully and to confirm for the first time to the U.S. Military and Americans that American POWs were being tortured in North Vietnam. He repeatedly blinked his eyes in Morse Code during the interview, spelling out the word, "T-O-R-T-U-R-E."
On February 12, 1973 now Captain, Jeremiah Denton was on the first C-141 aircraft out of Gia Lam Airport on the way to Clark Air Force Base in the Phillipines,  released  by the North Vietnamese along with other "longest held" other American POWs during Operation Homecoming. Stepping off a jet back home, now  in uniform, Denton stated: "We are honored to have had the opportunity to serve our country under difficult circumstances. We are profoundly grateful to our Commander-in-Chief and to our nation for this day. God bless America."
*****************************
 Operation Homecoming
A major provision of the Paris Peace Accords of 1973 regarded exchanging prisoners of war. OPERATION HOMECOMING was the plan to bring American prisoners home from Hanoi and other locations . Prisoners were to be returned to U.S. control during February and March 1973, with the longest-held generally returning first. 
The North Vietnamese assembled the POWs and told them the war was over. As the POWs prepared to leave, the North Vietnamese tried to issue them brightly-colored sweaters and suits with ties–another of their endless propaganda attempts. The POWs did not want to look well-treated or like civilians, but they compromised to keep from jeopardizing their release. They accepted low-key outfits of dark pants, shirts, and windbreakers. The groups of POWs released were selected on the basis of longest length of time in prison. The first group had spent 6-8 years as prisoners of war
On Feb. 12, 1973, three C-141 transports flew into Hanoi, North Vietnam, and one C-9A aircraft was sent to Saigon, South Vietnam to pick up released prisoners of war.  From February 12 to April 4, there were 54 C-141 missions flying out of Hanoi, bringing the former POWs home.
Ex-POWs first stopped at Clark Air Base in the Philippines for medical exams, good meals and new uniforms. After stops in Hawaii and California, they finally returned to their families and their lives as free Americans. 
Those who were not freed at Hanoi–POWs held in South Vietnam by the Viet Cong, mostly Army and civilians–left from Loc Ninh, the scene of the North Vietnam-South Vietnam prisoner exchange.
Eight Nam-POWs received the Medal of Honor: VADM Jim Stockdale, USN; Col. Bud Day, USAF; Col. Don Cook, USMC (Posthumously); Capt. Lance Sijan, USAF (Posthumously); Capt. Rocky Versace (Posthumously) for action above and beyond the call of duty as POWs and Col. Leo Thorsness, USAF, SGM Jon Cavaiani, USA and SGT William Port, USA for heroism prior to their being captured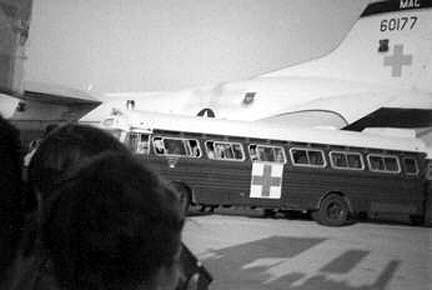 That first group of POWs to leave Hanoi on Feb. 12, 1973, flew on a C-141 later dubbed the Hanoi Taxi (serial number 66-0177). Though modified over the years, the aircraft was also maintained as a flying memorial to Vietnam-era POWs and MIAs. This historic aircraft is now part of the National Museum of the USAF's collection. 
 A total of 661 American military POWs survived the war. About eighty percent of the military POWs who survived the war continued their military careers. Most of the 500 returning airmen retrained and resumed their aviation careers.