The American Prisoners of War in Viet Nam began their first flight from Hanoi to freedom 40 years ago 12 February 1973. The last flight was 29 March 1973.
I watched the students and their teacher's faces closely as Jim began his talk on the Vietnam War to the Rio Mesa High School American History class.  I had been the set-up man, talking about the war and being a Naval Aviator. The class was polite, they knew my son as a classmate sitting towards the back, but they were afterall teenagers, and they had all seen TopGun. Jim quickly described getting shot down in his A-7. And then he started talking about the "ropes." …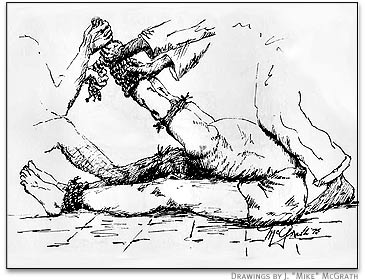 From Mike McGrath's drawings in Prisoner of War: Six Years in Hanoi, available from the Naval Institute Press.
Eyes widdened, they sat up very straight, very quiet, very intent, even the teacher was caught somewhat off guard. Captain Jim Hickerson had been a Prisoner of War for over 5  years of hell. This was history in a way those kids had never come close to considering.  This was not Goose and Maverick, this was not Hollywood history, this was a whole different kind of thing…
I started Remembered Sky as a vehicle for me to write – or publish the writing of others – focused on love of flying, with particular interest the stories from USS Midway/Airwing Five and the Vietnam War in 1972-73 – but maybe even more important than the flying were the connections-developed with "these good men."  There are lots of good books and websites on aviation. Remembered Sky is offered on a personal level – friends of "Boris" or "friends of friends of Boris." It's a "one – three degrees of connection" kind of thing, you might say.  I started with just love of flying stuff, then added pieces on the Midway '72 cruise as a result of the Easter Offensive, and then moved into Linebacker II.  
The various elements – the 100th Anniversary of Naval Aviation in 2011, the 40th anniversary of the Midway war cruise, my own wedding and immediate departure to a rapidly heating up war, and the 40th anniversary of the end of the war and the Paris Peace Accords with the resultant release of our Prisoners of War – all began to merge in my memory as a story of stories in which I and my airwing/squadron mates/friends all played a part, certainly not at a national level, but in terms of degree of commitment and impact to family – a significantly non-trivial role. I am doing this for myself, my family, and with hope that all "these good men" can recall what they accomplished. As I have noted previously, winning and losing wars occurs at another level, for me anyway, mission accomplished. I was there and part of the process that got the POWs home.
And so, I do not believe this line of thought would be complete without stories out of the Prisoner of War battlefront and of their coming home – Operation Homecoming.  For those of us in theatre at the time, bringing our "buds" home was primary.  We had long known of the situation at home. Forty years later, I still believe the POW story worth recalling and retelling every so often.  The POW mantra was "Return with Honor" and that they most certainly did.  But below that top level is a process developed in the crucible of the Hanoi Hilton relevant today and worth more than just a little scrutiny to my thinking, is the idea of "isolated yet unified."
One hears/reads about the war in Viet Nam today only when some news person wants to draw similarities to current U.S. undertaking and the "quagmire" that became Viet Nam.  For education, history is long, the school year is short.  Twenty years ago when Jim Hickerson and I talked to high school juniors in American history, there was very little in the California American History book. The issue of the POW's treatment, the actions of the League of Families, and the resultant impact on the press, the NVN world view and even the formalized treaty itself, of bringing to light by those wives, the horrible tortured treatment of their husbands, was not even worthy of a single word. Those kids knew nothing then, so it's no wonder Jim grabbed and held their attention so intensely.
Your guess as good as mine what is being taught today.  But is the Viet Nam War including the POW element important in to today's environment? 
Consider that despite extensive (the Boer War in South Africa and the fighting in Manchuria in 1904-05) experience with the violence, destruction and death possible from the emerging technology of weapons at the turn of the twentieth century, the Europeans plodded into World War I and the utter destruction of trench warfare, almost completely ignoring what had occurred on other battlefields and indeed been easily observed and reported.  Adaptation in 1918 was long in coming and still incomplete at war's end.
Did we learn about guerrillas and insurgents from Viet Nam?  Not much.  This country has been in more "small wars" over our history than the BIG ones, but we don't like them and decry "never again!" Despite the old admonition that we're always preparing to fight the last war, truth is we really don't learn AND apply very well.
So then, is the captive environment – prisoners and hostages and the leverage attempted by their use – still a factor between both conventional and irregular belligerents? Ask Iran, ask Israel, hell, ask Hollywood.
In this context then, one should reflect that not since the end of WWII have wars ended with treaties resulting from victory. Instead Korea, Vietnam, the wars of Israel, Iran and Iraq and Iraq/Afghanistan end with stalemates, compromises and mostly with belligerents just being worn-out.  And always within the framework are issues of captives- how they are used, treated, and hopefully returned.  Messy, unclear conflicts with unhappy endings are what we are most likely to continue to face.
On another front, cannot a Katrina like environment not be considered a "captive" environment?
Do I think the Viet Nam POW issue a value filled learning environment, still?  I do.
In an early edition of my other website, Project White Horse 084640, I featured an article by Dr. Gary Klein, author of Sources of Power: How People Make Decisions, in which he discusses the pluses and minuses, given the situation, of analytical decision making vs. "recognition-primed decisions," those generally described as based on experience. Part of his premise is that internal models we build, including richness derived from stories, are critical elements of  being capable of arrival at acceptable/workable (as compared to optimized) time critical decisions in crisis situations. Given that not everyone gets serious experience in crisis – and certainly not in a crucible like the Hanoi Hilton – how can learning for response in extreme conditions be accomplished? For Klein, storytelling is a significant tool.
That said, my thinking is that since there are a lot of good books already out there, I want to come at the period from different perspective.  This is not intended as history or as analysis.  It is intended to get the story back on the table, not only as "war and remembrance of friends" but as food for thought.
The previous post as a bridge – "Epilogue" piece for Christmas '72 stories – features two videos with POW comments, Bud Day, Render Cayton, etc on the first nights of LB II, and so to me, makes a nice lead-in.  Jack Fellowes piece is presented as a different look at the immediate aftermath in the hospital and with his family.  I really like the story of the bracelets and the return of Jack Ensch's bracelet years after he came home. Orson Swindle's discussion of Admiral Jim Stockdale's leadership then cuts to the issues dealing with the isolation and the processes to become and stay unified. The final post, before a closing with some references and final reflections, gets right to the heart of leadership in severe circumstances. Here authors Peter Fretwell and Taylor Baldwin Kiland discuss the critical underpinnings to "return with honor" and "your brother's keeper. And finally, the wives and families. What warriors they were. Henry Kissenger noted that Paul Galanti's wife caused him much trouble.

Many know Sybil Stockdale's story, but here is the story of Carole Hickerson and her work not only with the League of Families but also the story of the design of the POW-MIA logo. 
As noted I will provide some suggested reading from the references I have been using, but here at the beginning I want to pass a special bit of appreciation to Mary Ripley and the U.S. Naval Institute and their magazine Proceedings  for their assistance.