Testimony of Pilot #1
You love a lot of things if you live around them, but there isn't any woman and there isn't any horse, nor any before nor any after, that is as lovely as a great airplane, and men who love them are faithful to them even though they leave them for others. A man has only one virginity to lose in fighters, and if it is a lovely plane he loses it to, there his heart will ever be.
Ernest Hemingway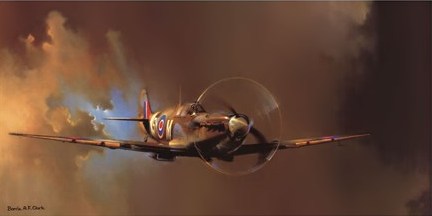 Spitfire by Barrie Clark
This Ernest Hemingway quote is from an article he wrote for Collier's when he was their correspondent in London during World War II. Titled "London Fights the Robots", it's about the R.A.F. effort to shoot down incoming buzz bombs. – From the book, By-Line: Ernest Hemingway, a compilation of much of his journalism – It can certainly be supposed Hemingway was characterizing one of the most beloved aircraft in history from the Battle of Britain.
With this note Remembered Sky begins a new series Testimony of Pilot. The intent is to provide an anthology of aviation TINS ("this is no shit" as contrasted with "once upon a time") stories, some by me some by others. Focus is good stories in general rather than digging into Vietnam or WW II or airpower concepts, etc.  As to those by others, a major factor is to prevent some really good TINS from being lost within the vastness of Google or lost forever through the passage of time.
But "by others" brings to the forefront good ole copyright laws. My great friend and mentor  years ago in all things related to fighter pilotness and particularly F-8 Crusader bidness, Quis, in later life after F-8s and crop dusters, one of those lawyer types, noted a man could be considered to have lived a good life who had avoided contact with lawyers. In posting some of my collection over many years of stories, chapters and quotes such as Hemingway's, I'd like to maintain that non-lawyer mode of ops.
So here after some research is what seems right to me in the copyright context of Fair Use.
Unfortunately it appears, the only way to get a definitive answer on whether a particular use is a fair use is to have it resolved in federal court. Judges use four factors to resolve fair use disputes. It's important to understand that these factors are only guidelines that courts are free to adapt to particular situations on a case-by-case basis. In other words, a judge has a great deal of freedom when making a fair use determination, so the outcome in any given case can be hard to predict.
The four factors judges consider are:
the purpose and character of your use
the nature of the copyrighted work
the amount and substantiality of the portion taken, and
the effect of the use upon the potential market.
In addition there is the Transformational Factor.
Has the material you have taken from the original work been transformed by adding new expression or meaning?
Was value added to the original by creating new information, new aesthetics, new insights, and understandings?
This content for Copyright and Fair Use Overview is taken from the book Getting Permission (October 2016) by Richard Stim. He notes that  knowing that disclaimers or even permission by the author won't necessarily prevent a lawsuit,  limited damages in a lawsuit may be effected by stating something to the effect of:
"No copyright is claimed in [content copied] and to the extent that material may appear to be infringed, I assert that such alleged infringement is permissible under fair use principles in U.S. copyright laws. If you believe material has been used in an unauthorized manner, please contact the poster."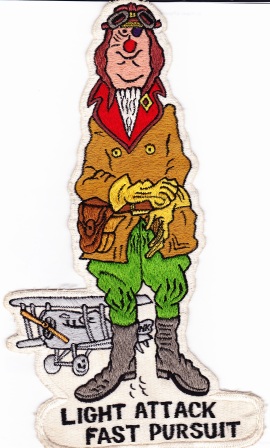 And so…
THAT's WHAT I'M SAYING
The intent here is to recall good aviation stories and get people to read and understand what flying – particularly in fighter types – is all about.
In the book about Delta Force, the author Sergeant Major Eric Haney related the story of a Delta guy who hated the airborne stuff.  Haney asked him "hey you're a great soldier, do great anywhere, so why stay where you have to jump out of airplanes?" His reply "I just like to be around the kinda guy who does that stuff!"
That sums it up for me. Stories be coming. Inputs desired.
"Testimony of Pilot" and "Remembered Sky" are pretty much synonymous. So next up I'll Remember by Richard Newhafer.
PS: Almost forgot – fighter virginity, my own.
First off, It must be noted, I've never flown a fast mover that wasn't fun – 
F-8, A-7, TA-4, A-6
The A-7 Corsair brought me home to USS Midway so many times from the Vietnam War, just a great aircraft, but virginity, well it has to be the ole F-8 Crusader and that first flight to 1000 MPH – so much fun was had and probably most important – so much learned that was eventually applied in the Corsair at war.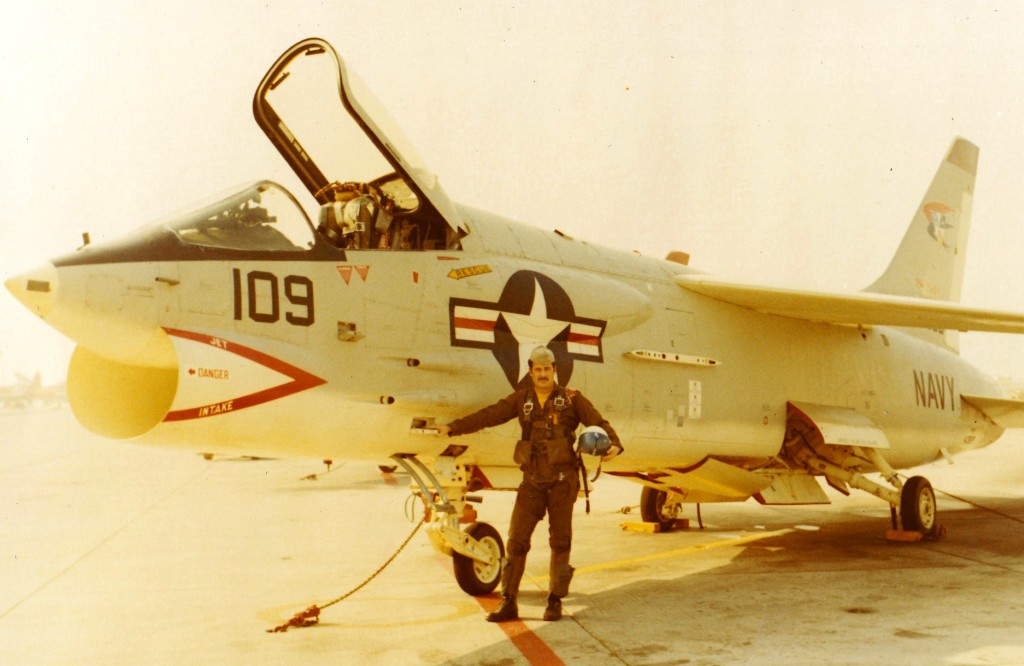 Thanks Dogkicker