Introductory note: Before  we tell Hippo's story and complete the telling of the rescue of a downed Air Force Wild Weasel crew well inside North Vietnam in November 1972, I think it necessary to provide a short comment on how I anticipate Remembered Sky to playout over time. The next post will provide more on the framework and goals and types of things the reader can expect, but for now let me just say that the intent is not to be a vehicle for me to tell my own stories, nor is it to be just a re-telling or link to stories long known and available. While Remembered Sky will certainly provide both, what is really desired is to lay out the tapestry (only word I can think of) that comes from the people, missions, adventures, emotions, thought, insight, and just listening and associating with all the stories  that evolve day in day out from flying. Bob's writing sets a great target for future stories.
Richard Bach in A Gift of Wings noted that if you love to fly, if you hang around airports and visit hangars, if you visit the sky, you're bound to find real friends. Hippo and I have never met, but he's for sure a great friend.
So here's an intro to Bob Hipps, and then the Wolf FAC story:
An AFROTC graduate from the University of Alabama Bob Hipps entered the Air Force in 1965. He was a member of the first class of navigators trained in the F-4 weapons system and checked out in the airplane at Nellis AFB in 1967. Following his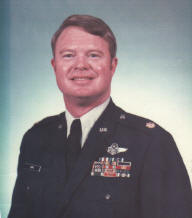 checkout, he reported to the 8TFW at Ubon and flew a 100 mission tour in the F-4D with the 497TFS Night Owls. He was then assigned to the 347TFW at Yokota AB, Japan and flew F-4C's there from 1968 until 1971.   He reported to the 4TFW at Seymour Johnson AFB in mid 1971 and deployed to Ubon with the 334TFS in the fall of 1972. During his tour there, he volunteered for duty as a Wolf FAC and flew as a Wolf until his squadron returned to Seymour Johnson in March 1973. He subsequently served with the 3TFW at Clark AB, the 347TFW at Moody AFB, the 57FIS at Keflavik and flew a gray desk at HQ TAC from 1979 until his retirement in 1985. During his service in Southeast Asia, Bob flew 214 combat missions with 141 of them over North Vietnam. He participated in the Rolling Thunder, Linebacker I and Linebacker II aerial campaigns and amassed over 450 hours combat time in the F-4D and F-4E aircraft. For his service in SEA, Bob was awarded two Silver Stars, two Distinguished Flying Crosses and twenty one Air Medals. He and his wife Phyllis currently reside in Toano, Virginia. Bob is a member of the Red River Valley Fighter Pilots' Association (River Rats), Virginia Aviation Historical Society and the Casual Bar (CASBAR).
Now for your amusement, here's our connection. Hippo contacted me through Facebook, noting we were both from Nashville and both River Rats. (Red River Valley Fighter Pilots' Association.  Membership was originally based on having flown missions into Route Package 6 North Vietnam, mostly meaning missions along the Red River which runs between Haiphong and Hanoi.) We were both flying into North Vietnam at the same time in 1972 and given his squadron's mission could very easily have worked together. But here the "six degrees of separation" gets interesting.  Bob went to Donaldson High School, league rival of my school, Isaac Litton, my cousin was a cheerleader at Donaldson, he's friends with Jimbo Bevans and his wife – both great multi-sport stars, Jimbo at Donaldson, Carol Galloway at Litton – and Carol was my Litton Junior Prom date. That said on to Hippo's part in the rescue – no place for the faint hearted…
Wolf FAC
by Major Bob Hipps (USAF, Ret)
FOREWORD: The May 1988 edition of Air Force Magazine (previous post) contained an article titled "Sandy Superb" by John L. Frisbee. My purpose in writing this account is to provide "the rest of the story" that you didn't see in Frisbee's account.
BACKGROUND: The North Vietnamese invasion of South Vietnam in early 1972 is well known to most. In April 1972, the 4th Tactical Fighter Wing (4TW) at Seymour Johnson was in the early stages of a Tactical Air Command Operational Readiness Inspection (ORI). Shortly following the mobility phase of the exercise, we received a top secret message that told us to stop the ORI and send two squadrons of F-4E's to Southeast Asia. We didn't really know where our squadrons were going until after they had launched from Seymour on April 6th 1972. The first to deploy were the 334th Tactical Fighter Squadron (TFS) Fighting Eagles and the 336TFS Rocketeers. After several changes of orders enroute, they eventually arrived at their beddown base.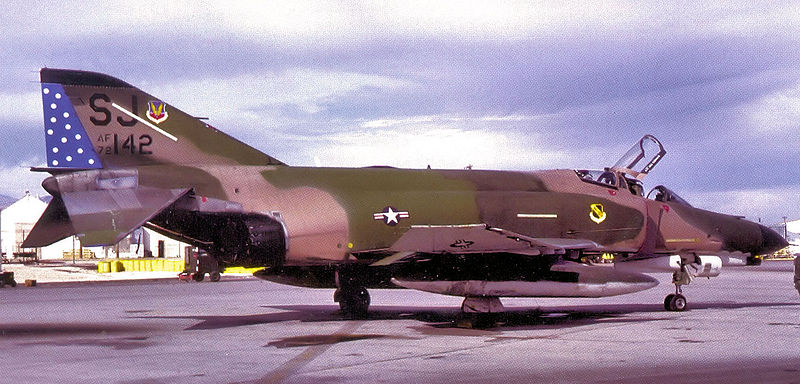 The 334TFS returned to Seymour Johnson after 90 days in-theater and were replaced by the 335TFS Chiefs. In September 1972, the 334TFS headed back to Ubon to replace the 336TFS. During their stay at Ubon from April 1972 until September 1973, several of the 4TFW "summer help" crews volunteered for and were accepted into the 8TW's Wolf FAC (Forward Air Controller) program.  This is the story of two of them.
---
17 Nov 72: Captain Alexander H. (Sandy) Murchison III from the 335TFS and I were scheduled for a mid-day Wolf FAC flight. To avoid confusion in this little tale, I will refer to him as "Sandy" and the A-7 flight lead as "SANDY." I was still checking out in the program and Sandy was an IP (as were all Wolf pilots). Right around briefing time, we were informed by the command post that a weasel crew had been downed by a SAM the previous evening somewhere north of Vinh and Blue Chip wanted us to head up there and see if they could raise them on the radio. Turned out the crew was nowhere near the position we got from 7th Air Force (7AF). In fact, we didn't even have a map of the area where we eventually found them. Anyhow, we launched with our wingman and headed north through Laos and hit our first tanker of the day. The weather steadily worsened the further north we flew and we thought there was no way the survivors could be recovered if they hadn't been captured already.
When we arrived in the area given us by 7th, we started calling the survivors on Guard channel. No luck so we widened our search area running a north/south racetrack pattern just west of the NVN border. We finally raised them at the northern most end of our search pattern. Turned out they were about  20 or 30 miles south of Thanh Hoa close to the SAM site that had shot them down (although we didn't know that at the time).
After much discussion, Sandy and I decided we needed to pinpoint their position for the Sea Air Rescue (SAR) forces. So we told our wingman to hold west of the border and we crossed over North Vietnam (NVN), went feet wet and let down under the overcast out over the Gulf. We went feet dry headed for the weeds. Sandy flew the airplane constantly changing altitude and heading (we called this "jinking") and I pretty much kept my head in the cockpit trying to get a DF cut on them while telling Sandy which way to fly.
We located them both on the east side of a ridgeline running north and south just west of some river and Route 1. Although I couldn't hear anything but the usual cockpit noise as we got close to their position, one of them said on the radio, Hey Wolf, they're shooting at you."  I could see the tracers as we jinked through the area but the survivors could actually hear the roar of the guns as the gunners took their best shot at us.  We got a good hack on their position and headed back west to the tanker.
While we were on the tanker's wing, we were told to contact the Airborne Command Control Center (ABCCC) for words. They gave us some directions for the survivors to get them to move to the west side of the ridge line since there was no way the Jollies could come in from the water side due to all the guns between the coast and the ridge. The whole thing required copious notes on my part since it was based on the geography at McConnell AFB. Something like "go out the main gate and turn left at doofus street or whatever."
About that time, some Thud weasel (F-105s on missions called Ironhand were used to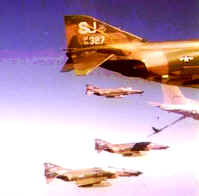 attack NVN air-defense systems/surface-to-air missile (SAM) sites. Specially equipped a/c were called Wild Weasels) showed up at the tanker claiming emergency fuel and he was down to his last couple hundred pounds. We got out of the way and let the Thud have the boom. I remember admiring his set of shark's teeth (especially the one long fang) and wishing I had a camera that day.
We got our gas, flew back to the area and passed the message to alpha and bravo. They seemed to know what we were talking about (although Sandy and I had no clue what we were saying since we had never been to McConnell). As best I remember, that was about it for the day and we RTB'd (returned to base) back to Ubon.
My Form 5 says we flew 6.7 hours in F-4E tail # 295 that day. Saw lots of AAA (looked like mostly ZPU and 23mm to me) but no SAM's or Migs although the RHAW (radar warning)gear went crazy all day.
After we had debriefed, Sandy got called to the head shed and I headed for the bar. He came into the bar after an hour or so and said 7AF wanted us to lead the SAR forces into the area the next day and would I fly with him? Since I had nothing better to do the next day, I told him "no sweat" and we headed back to Tactical Operations Center (TOC) to do a little preliminary  mission planning for the next
day's go.
---
18 Nov 72: That morning, Sandy and I had an oh-dark early briefing. I think we launched about 0430 or so and was it ever dark! We headed up to the tanker and rendezvoused with the rest of the force. Unlike the previous days effort when there was just us and a couple of weasels flying around, 7AF fragged a CAP flight, some weasels, some F-4 strike aircraft and of course the Jollys (HH-3) and Sandys (A-7D). As it said in the AF Magazine story, this was the first time the A-7D had been used in a SAR role in South East Asia.
When we arrived in the area, the weather was even worse than the previous day. It was 1,000′ to 500′ overcast with some rainshowers in spots. Our two ship joined up with SANDY Lead and we headed feet wet from over the mountains. When we got out over the Gulf, we had our wingman hold, put the A-7 on our wing and down we went through the weather. We broke out at about 700′ AGL overwater and coasted in. SANDY Lead  dropped back to a fighting wing position and we proceeded to the projected pickup area. We led the A-7 around the south side of the ridge (didn't want to overfly the survivors' positions and tip our hand to the bad guys). We raised them on the radio and then the A-7 took off on his own to find a route into the area for the Jollies. That was the last time we saw him that day.
As I mentioned before, there were AAA sites all over the place so we decided to kill a few of them to get the gunners' heads down. The first strike flight checked in with us and we gave them our standard target briefing including the weather. Then, my frontseater asked them if they could work with us. The flight lead said, "well, we'd rather not." So, we sent them on their way and called for the next flight. These intrepid souls came down through the murk and tried to bunt their CBU's on the guns, but their fuses were all set for 4 seconds and they all were duds.
Since we were running out of ideas at that point, we called for our wingie Bob Kendall to come on down. This kid was a 1Lt from the 25TFS (I think) who liked to break glasses in the club and eat light bulbs. He could also fly a mean Phantom, as we soon learned. I *still* to this day don't know what kind of whifferdill he did to get his weapons to arm, but he did and killed several gunsites for us. Then, it was back to the tanker for more gas.
We also noticed that the bad guys had placed several guns on the west side of the ridge on a small knoll just west of the survivors. At that point, all we had left was 20MM and Sandy said we had to take them out or the Jollies would never make it in. As all of you former Phantom drivers know, there isn't a whole hell of a lot for a GIB to do on a strafe pass so I leaned
forward and looked over Sandy's left shoulder as he strafed the gun pits. To this day if I close my eyes, I can still see the tracers going from us to them and vice versa as well as the exploding ammunition in the pits. Unfortunately, the gun camera film somehow got "lost" when we got back (personally I think the developers copped it as it would have been one hell of a shot).
After we and our wingman had completed our last strafe pass. we were both winchester and bingo. The ABCCC said they were running out of tankers and the Jolly and Sandys were coming in so we were ordered to RTB.
We returned to Ubon and were told the pickup was successful and the survivors were aboard the Jolly headed for a friendly base in Thailand. We felt pretty damn good about the whole thing at that point although we were disappointed that we hadn't been on-scene for the survivor pickup. My Form 5 for 17 November 72 says we had 6.6 hours (1.7 night time) in F-4E tail # 333.
POSTSCRIPT: Captains Murchison and Hipps were nominated for the Air Force Cross (AFC) by Captain Murchison's squadron. The award was later downgraded to the Silver Star by 7AF. Captain Murchison retired from the Air Force as a colonel in the late 1980's. Captain Hipps retired from the Air Force as a major in 1985