Linebacker II from 18-29 December 1972 is commonly understood as the B-52 strikes over Hanoi that brought the NVN back to the negotiating table in Paris, leading to the end of the war, a treaty- The Paris Peace Accords –  and the return of America's Prisoners of War. Given that the aim of LB II was not a military one, but rather was a political campaign that used physical damage to send a message, it is not surprising that the highly visible /high press interest missions of the first use of B-52s  night after night at such scale in the high threat Surface to Air Missile environment of Hanoi has received such notoriety. (B-52s had flown one mission to the Haiphong area in April '72. This indeed created serious questions about employment of lots of big airplanes in a high threat environment. Those questions appear to have been resolved completely bass ackwards for the first few nights of Christmas '72)
Fifteen B-52s were shot down, three were seriously damaged and six had minor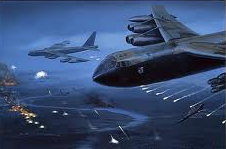 damage. Overall, the B-52s flew 795 sorties. Only about half of the total sorties-372-went to Hanoi, but all of the 15 B-52s lost were hit within a thirteen-mile radius of the capital.  Ninety-two crew members were involved in the 15 losses, and 61 of the 92 were in 10 aircraft that crashed in North Vietnam. Of the 61 crew members involved in aircraft that crashed in North Vietnam, 28 died (the bodies of 7 of these have not been recovered) and 34 were captured. One of those captured died from his wounds and is included as killed in action.
But to see LB II only from the perspective of B-52 strikes – despite the bravery of the BUFF crews on missions far more dangerous than any they had previously flown – is to miss significant pieces of the operation.  Often left without discussion are the night low level missions to Haiphong by A-6 Intruder squadrons: VA-115 Midway, VA-196 Enterprise, VA-35 America, VA-145 Ranger and VA-75 Saratoga.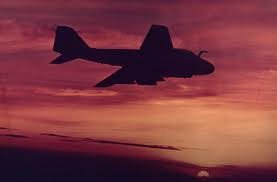 Remembered Sky Christmas '72 story telling is in no way intended as history, rather it is   intended to enrich the picture by bringing out personal aspects of that time frame particularly on aspects not all that commonly known. The stories to follow will address:
The significant and severely non-trivial role that both Navy (particularly the A-6 missions) and Air Force TACAIR played
The perspective in Hanoi/Vietnam that rather than a U.S. win, the Christmas bombing campaign resulted in a huge victory for North Vietnam, still today regarded as the 'Dien Bien Phu in the skies,' recalling the NVN victory that drove the French from Vietnam in the Spring of 1954.
The complexity and controversy over the B-52 losses because of planning not at Guam or Thailand where the aircraft were based, but rather at Strategic Air Command (SAC) Headquarters in Omaha resulting in repetitive routes, poor tactics, and unwillingness to listen to the aircrews even after losses mounted.
From my own perspective much of this remained hidden behind the years, uncovered only after I decided December 2010 to look back at Naval Aviation as an aspect of the 100 Year Naval Aviation Anniversary followed by the 40th anniversary of that '72 cruise and the end of the war in Vietnam. Dave Kelly's Not On My Watch has been very enlightening and his stories of the first two nights follows. Also, hearing the Air Force TACAIR side from Ed Rasimus and Bob Hipps has opened my eyes to their side of the war. Each service has its own idiosyncrasies.  Each had its own unique crosses to bear. Most of the Navy side is driven by the carrier aspects and the clear distinction between fighter (air-air, F-4, F-8) and attack (air-to-ground, A-4, A-7, A-6) aircraft and missions. The AF, on the other hand, distinguished the world between fighters (F-4 Phantoms, A-7 Corsairs, F-105 Thuds, F-111s) and bombers (B-52). They then designated/segregated mission type assignments (air-air or air-ground) to their TACAIR bases. While Raz and Hippo represent the front and backseat of Phantom attack ops, Raz was cast in the attack role with significant time as the "killer" part of the hunter-killer teams attacking SAM sites, commonly referred to as the Wild Weasel or Ironhand missions, and Hippo mostly worked the Fast Fac world.
I have refered often and therefore also highly recommend Palace Cobra (Chapter 10; Christmas Cards to Jane and Ho) by Ed Rasimus for the Air Force TACAIR perspective on both Linebacker I & II;  The Eleven Days of Christmas; America's Last Vietnam Battle by Marshall Michele III for the best and broadest view of the B-52 operations including planning, aftermath and NVN perspective; and Launch the Intruders (Chapter 11; "Oh Christmas Tree, Oh, Christmas Tree") by Carole Reardon, telling the VA-75 Sunday Puncher's story of USS Saratoga from the A-6 perspective which, as noted previously is very similar to Midway's story.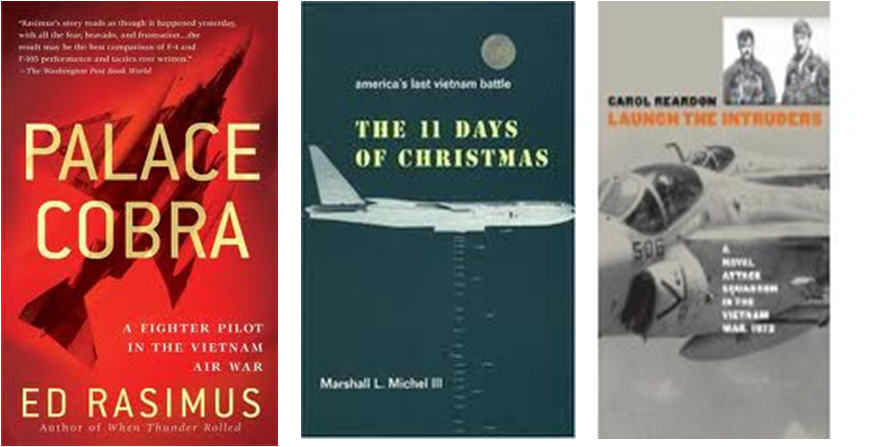 A post script: "From this valley they say we are going…"
When Midway recovered its last aircraft from the 0400 launch of the second night (19-20 Dec) and finally headed South from Yankee Station for Christmas R&R in Singapore days later than originally planned, it is doubtful that a single soul in Air Wing Five held any regrets that they would miss whatever was to come in what Marshall Michel calls "America's last Vietnam battle."
While we were no longer flying into Route Package VI along the Red River Valley running from the ocean at Haiphong northwest through Hanoi and "peace had been at hand" since sometime in October and indeed, Operation Linebacker concluded on 23 October, Navy and Air Force pilots were still flying into North Vietnam daily. As noted in a previous post, VA-56's Smokey Tolbert was shot down 6 November, and Midway had experienced near disaster with its 24 October flight deck accident with multiple losses of life and the Air Wing Commander seriously injured.  Being extended on the line was not encouraging.
Consider this from the 23 Dec 1972 entry -U.S. Naval Aviation 1910-1980 NAVAIR 00-80P-1:
An example of attack squadron action during the year is portrayed by the following partial roundup of operations by VA-56 which ended its seventh line period this date. Flying combat with CVW-5 off USS Midway during portions of every month since April, the squadron recorded a total of 180 days on the line, engaged in 5,582.9 combat hours, flew over 3,000 sorties, performed 2.090 and 781 day and night carrier landings respectively, and amassed a total of 6,301 flight hours during its line periods. It conducted strike s against such targets as the Haiphong, Ninh Binh, Ha Tinh, Kien An, Tam Da and Than Hoa bridge complexes, the Haiphong, Vinh, Doung Nham and Nam Dinh petroleum, areas, and the Gia Lam railroad yards across the Red River from Hanoi. Other actions, for example, included mining operations and protective flights for four search and rescue (SAR) missions, including one at night inside NVN, and one for two Air Force officers downed off the coast. During the line periods, six of the unit's A-7Bs were lost to anti-aircraft artillery and surface-to-air missile fire, with two pilots taken prisoner of war two listed as missing in action and; two shot down but retrieved.
While the A-6s were suited for the night low level missions, A-7Bs were not. The weather over RP VI dictated either high well above the cloud tops or very low underneath. As a result, during our short extension for the first nights of LB II, while the A-6s strapped on the load, A-7 pilots mostly did not fly. I stood  two SAR alert Five's stting in the cockpit on the catapult and one alert fifteen suited up but in the Ready Room.
Singapore was outstanding. They celebrate Christmas much as Americans party on New Year's Eve. The Champs – and I'm assuming the rest of the airwing partied hardy. We were back on the line early January. I logged 19 more combat sorties, but the NVN had come back to the negotiations. This time peace really was at hand, but there were still losses to come.
So, as it turned out, I'd flown my last mission along the Red River in mid-October.  Singapore parties well for Christmas and we all had a great R&R. It turned out to be an eleven month war-cruise. I hadn't flown a lick in LB II and I had no regrets in never having to go back to the Red River Valley.