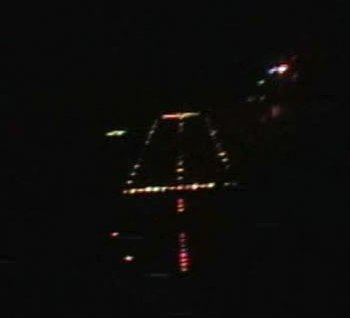 The stories of the A-6 accident on 24 October 1972 were originally posted on the Project White Horse FORUM beginning with Naval Aviation 100 Years – Part 1: A Bad Night for Schoolboy – A Self-designing, High Reliability Organization. These stories are being transfered to Remembered Sky with certain modifications. The specific High Reliability Organization link has been separated from the stories and presented independently as a Remembered Sky tabbed page above -The Carrier -  in three parts.
Here then are the stories from that night:
[This is from the book THERE I WAS … Sea Stories from the U. S. Naval Academy Class of 1965, and e-mail exchange bewteen Bruce and myself .]
It was the 24th of October, 1972, and I and my Bombardier/Navigator (B/N), "Bix", were returning to the USS MIDWAY in our A-6 aircraft from a night low-level bombing mission over North Vietnam.
The following comments are from two LSOs who were on the platform "waving" that night, one Bud Langston, from VA-115 the A-6 squadron and the other Pat Moneymaker, from VA-56, the A-7 squadron I was in. Shorter in length than that of A-6 pilot Bruce Kallsen, their comments are telling.  The A-6 was bringing aboard hung ordnance creating an unbalanced or asymmetric wing loading, the wind was calm that night meaning the ship had to create its own wind across the deck.
Mike "Manny" Bader was one the VA-56 LSOs, but on this night he was flying a combat mission on the wing of our squadron commanding officer, CDR Lew Chatham. 'Bear' Pickavance, a Raven from VA-93 was also flying with the Champs after his flight leader's aircraft had a problem after launch.  Also on this event flying an F-4 Phantom was the AirWing Five Commander (CAG), CDR C.E. Meyers. CAG had landed, shut down, and was walking down the bow between parked aircraft.  Many and Skipper Lew had just been parked and were beginning shutdown procedures.  All three were boresighted by the A-6 as it skidded out of control toward the "pack" of parked aircraft on Midway's bow.
Many of the stories are much shorter than Lew Chatham's or Bruce Kallsen's, but they are just as much woven into the fabric of the story of that night, and are necessary for comprehension of what it meant to sound flight quarters the next morning.  Here from e-mails to me, from the Midway website Crew Messages, and from the book sold on-board by Scott McGaugh – Midway Magic; An Oral History of America's Legendary Aircraft Carrier:
See the next post as a wrap-up